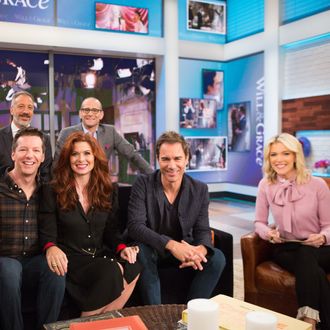 Today Show.
Photo: NBC/NBCU Photo Bank via Getty Images
Megyn Kelly took over hosting duties on NBC's Today show on Monday, but her debut on the popular morning show didn't go off without a hitch — at least in the eyes of one of her guests. The four actors at the core of Will & Grace all appeared on Kelly's first day to promote their upcoming reboot, and Debra Messing was not happy with some of Kelly's interactions with a superfan of the sitcom. Messing responded to a fan questioning her appearance on the show on Instagram, "Honestly I didn't know it was MK until that morning. The itinerary just said Today Show appearance. Regret going on. Dismayed by her comments."
What comments troubled Messing? During the segment, Kelly spoke to a fan of the show, who, like the fictional Will, is a gay lawyer. After awarding the viewer free tickets to a live taping of the series out in Los Angeles, the former Fox News host told the fan, "I don't know about the lawyer thing, but the Will & Grace thing and the gay thing is going to work out." While some people laughed, Messing could be seen looking displeased in the background.