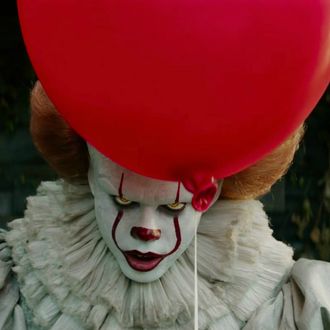 It destroyed even the highest projections for its opening-weekend box office, but it was already clear director Andy Muschietti would get the chance to finish the two-part story even before his movie showed up and broke all kinds of records. (Andy's sister and producer, Barbara Muschietti, tells Entertainment Weekly that the green light isn't official, but that writing and development on the sequel has commenced.) So what's life going to be like for the Losers 27 years after the events of the first movie? First of all, the Muschiettis want to move fast, because the plan is to weave flashbacks into the modern-day movie, and the young stars are "growing very fast." That means you'll get to see Finn Wolfhard once more as the trash-talking Richie Tozier, and the director says, "They're a very big part of the action," instead of just being superficial callbacks.
If you loved Chosen Jacobs in the role of Mike Hanlon, we've got some sad news for you. As the group member who chooses to stay in Derry and keep watch over the town, he becomes a tormented and possibly drug-addled librarian. "My idea of Mike in the second movie is quite darker from the book," Muschietti told EW. "I want to make his character the one pivotal character who brings them all together, but staying in Derry took a toll with him. I want him to be a junkie actually. A librarian junkie. When the second movie starts, he's a wreck." But apparently the drugs will be necessary to expand his consciousness, making Mike the keystone to vanquish It. "He will bear the role of trying to figure out how to defeat him," Muschietti added. "The only way he can do that is to take drugs and alter his mind." All this calls back to the book version of It, in which the kids share visions of It's origins after participating in a psychedelic ritual together (the Ritual of Chüd).
Bill Skarsgard is set to reprise his role as Pennywise, but it sounds like the rest of the adult casting is wide open. Vulture has a few suggestions for that.