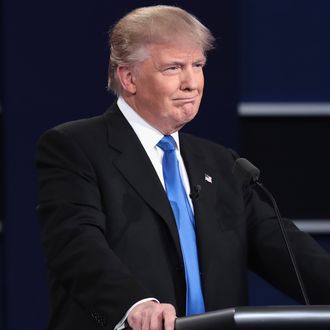 Photo: Drew Angerer/Getty
Donald Trump's pre-inauguration concert jamboree at the Lincoln Memorial was something that the president himself might call "sad!" Trump wasn't able to secure any particularly notable musicians for the political event, finally securing, in the end, the rock band 3 Doors Down, country singer Toby Keith, other country singer Lee Greenwood, and America's Got Talent's Jackie Evancho. (For context, Barack Obama got the likes of Beyoncé, U2, and Bruce Springsteen eight years prior.) The concert went by without a hitch, but now, thanks to an investigation by the AP, some questions have been raised about how much money Trump and his inaugural committee had to pony up in order to get this limited amount of musicians to perform. And the answer is a lot of money — $25 million, specifically.
"Among the head-scratching line-items was the pre-inaugural Lincoln Memorial concert, which came with a $25 million price tag, according to four of the people," the AP reports. "The price dwarfs a similar event staged eight years earlier for Obama's first inauguration." Indeed, per the AP's sourcing, Obama's inauguration concert cost less than $5 million while George W. Bush's inauguration concert cost roughly $2.5 million. However, it should be noted that one person "familiar with the [Trump] committee's thinking" said that the $25 million included "broadcasting costs and other events," which complicates a direct comparison to the expenses of past inaugural concerts. Still! That's a lot of money. "Bigly," you could even say.