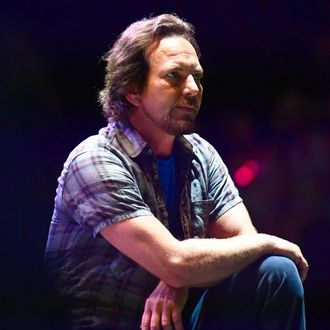 Vedder.
Photo: Mickey Bernal/Getty Images for Pilgrimage Musi
Eddie Vedder, who has long made his opinions about President Trump known, once again spoke out against the president during Pearl Jam's set at Tennessee's Pilgrimage Festival on Sunday. He said that after reading a report that a North Korean missile could reach Seattle in 30 minutes, Vedder thought about what he'd tell his wife and children if it ever came to that. "What would you do? You'd scream at the sky and go, 'What the fuck? How could this fucking happen?' But at that point, that's not gonna do any good whatsoever," he reportedly told the crowd. "And if I'm not gonna be on a stage for a while, I'm gonna say it tonight, here in Nashville: What the fuck? Are you kidding us? Can you please stop? Just stop." He continued his criticism of Trump's recent taunts at Kim Jong-un: "We all maybe need to raise our voices. We need to request and desire diplomacy. It's something called diplomacy. It's something called, you know, 'outsmart your opponent.' It's called, 'get them to do the thing that you want them to do, and have them think it was their idea.' It's called, 'Quit fucking with the lives of millions and millions of people.'"
Vedder also briefly paused his show to take a knee, as other musicians have done, in solidarity with Colin Kaepernick's protest amid Trump's recent attacks against him and the NFL players who followed his lead. The official Pearl Jam Twitter account also expressed support for the protest.