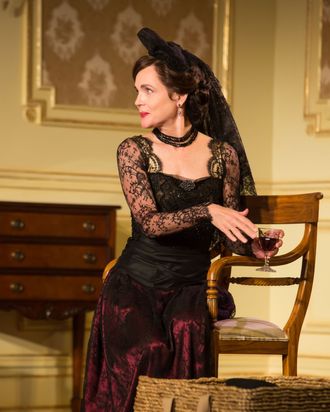 Elizabeth McGovern.
Photo: Jeremy Daniel.
In the Roundabout Theatre's production of Time and the Conways this fall, audiences will find Elizabeth McGovern in a context both familiar and new. In the 1937 play written by J.B. Priestley, McGovern stars as the matriarch of an upper-class Yorkshire family, a woman not unlike Cora Crawley, the character she played on Downton Abbey for six seasons. The difference, however, is that McGovern is performing not on TV, but on Broadway, something she hasn't done since she played Ophelia in Hamlet in 1992.
"Everything's changed so much. I'm really impressed that the theater seems so alive," McGovern says of the way the New York theater scene has changed since she last appeared on Broadway 25 years ago. "There's more excitement about it. It's almost as if screens have gotten smaller and smaller and smaller and more nuanced, and people are looking to theater for that thing you don't have at movies anymore, which is a reason to go out of your house and be with other people."
In Time and the Conways, McGovern is working closely with director Rebecca Taichman, who recently won a Tony for her work on Indecent and who previously directed Time and the Conways at the Old Globe in San Diego in 2014. There, Taichman connected with the play both in terms of its message, a critique of the British upper class, like many of Priestley's works, and its formally inventive structure — Time and the Conways leaps back and forth between 1919 and 1937.
"At its heart is a pretty fierce critique of a kind of greed and narcissism and selfishness that's propelled by an upper class, that feels very, very relevant to our culture today," Taichman said. "I also felt that the play has this wild theatricality with how it plays with time. Its invitation to look at time in new and wonderfully nonlinear, unique ways."
The rest of the Conways cast includes Anna Camp, Steven Boyer, Gabriel Ebert, Charlotte Parry, and Matthew James Thomas as various members of the Conway clan and their close associates. For Taichman, the greatest challenge of the play comes in welding their character work to its more abstract structures. "I think if you under-investigate or under-explore either side the play will go out of balance," Taichman said. "The task is to get them equally in balance."
Though the play echoes what seems like a collection of McGovern's fascinations, she insisted that she herself hasn't been planning any career moves too carefully. For those who are curious, McGovern said that there are discussions for a potential Downton Abbey film, but that nothing has been decided. In the meantime, she's just finished working on a project with Downton's Julian Fellowes called The Chaperone. "They say the Devil laughs at those who makes plans," McGovern laughed when asked if she saw any pattern in her choices. "It is really a reflection of my genuine taste, for better or for worse. I've usually worked on things that I'm genuinely fascinated by, and I just hope it finds an audience too."
Time and the Conways is currently in previews at the American Airlines Theatre. The play opens October 10.