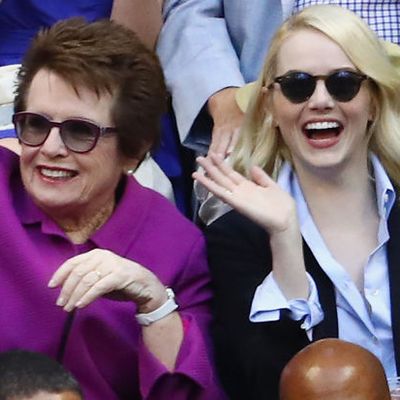 Look at these two.
Photo: Al Bello/Getty Images
Emma Stone may have already completed her performance as Billie Jean King in Battle of the Sexes — good enough, the consensus goes, that she'll likely be in the Oscar conversation yet again this year — but the actress is making clear that she still has more to learn from the tennis pro. Stone joined King at the women's final of the U.S. Open on Saturday afternoon, where the latter reportedly imparted much wisdom on the sport. (Stone was formally on-hand to close out the tournament with a tribute to King.) "Sitting here at the U.S. Open next to her, hearing her commentary on this sport — she's so brilliant in so many ways," Stone explained to ESPN's Pam Shriver. Indeed, who wouldn't want to watch a pivotal U.S. Open match beside a tennis legend? As awards season rolls around, of course, the tables could be turned. Because if King is at all interested in hearing some "brilliant commentary" on the nuances and machinations of Hollywood competitions, she could scarcely do better than Stone — hard-fought recipient of last year's Oscar, Golden Globe, SAG Award, and many more.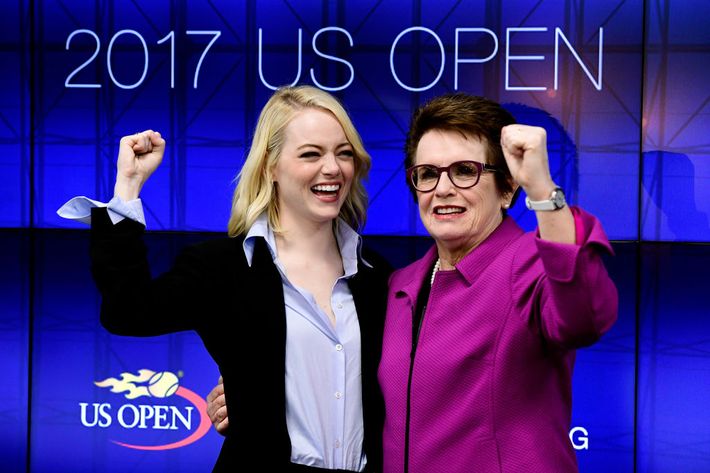 We can only hope that this is the blossoming of a beautiful event-based friendship, with King providing some essential, drunken side-eye at next year's Golden Globes.