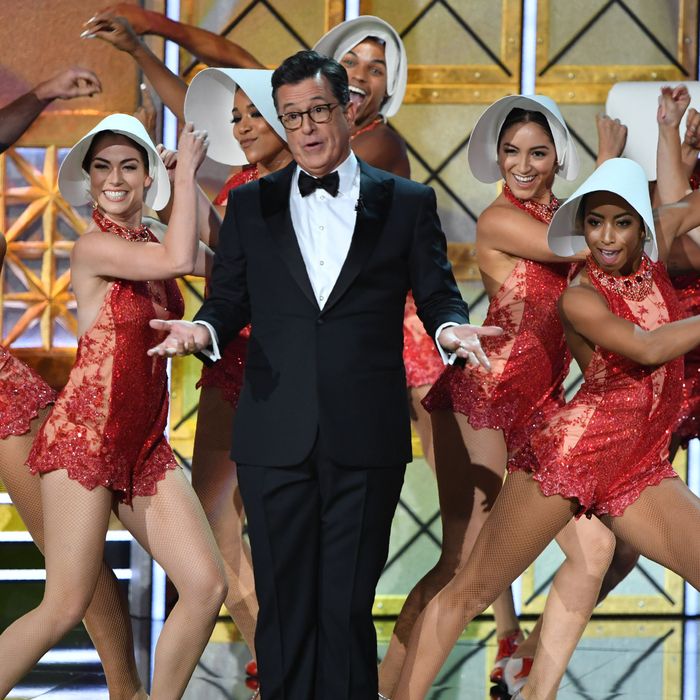 Stephen Colbert and the dancing handmaids.
Photo: FREDERIC J. BROWN/AFP/Getty Images
From dancing handmaids to Trump digs, the 69th Emmy Awards had everything, even if it wasn't always nice. With Stephen Colbert at the helm, the ceremony vacillated between political commentary, a celebration of the variety of Peak TV, and more than a little back-patting on the industry's part for being just a tiny bit more progressive than usual. With a slate of exciting winners, and a slew of not-quite-fully-realized sketches, the ceremony exemplified the contradictions — for better and for worse — of the hectic TV moment. We're here to break down what worked, what didn't, and what was just baffling.
LOW: Sean Spicer's appearance
For months, Sean Spicer's job — a job he chose willingly — was to stand up in front of the American people and lie. As punishment, he has spent his time since leaving the White House being turned into a harmless figure of fun. The Emmys didn't start this, but they certainly contributed to it, bringing the former press secretary out for a reprise of his inauguration-numbers bit, as if it were the Dead Parrot sketch and not, you know, a horrifying preview of what the Trump administration would be like.
HIGH: But, hey, at least it gave us some good reaction GIFs.
It was like watching Winona Ryder during the SAG Awards, but on 100 famous faces with their jaws unhinged.
LOW: The dancing handmaids in the opening number.
Nothing kicks off an award show with more style than a bunch of abused handmaids ripping off suppressive robes so they can be objectified instead. It helped that some of them were men, but not enough to make this whole exercise feel less weird.
HIGHS: Marbles.
LOW: The Emmys congratulating itself on diversity.
Television has made some noticeable gains recently, especially in front of the camera, but the overwhelming tone of self-congratulation for diversity at the Emmys this year wasn't all that deserved. It was great seeing Big Little Lies, Lena Waithe, Donald Glover, Sterling K. Brown, and Riz Ahmed win. But TV continues to have a paucity of stories that center on women and people of color with interior lives and terrible issues with diversity behind the scenes. This is especially true of CBS, which aired the Emmys and has no new series with female leads premiering this fall, save for Star Trek: Discovery. It's a little premature to be celebrating!
HIGH: Colbert as host.
From the White House Correspondents' Dinner to the Emmys stage, Stephen Colbert has a knack for gauging tone. He knows how to reserve his earnest commentary for the moments that count (asking people to contribute to hurricane relief efforts), when to skewer a room of rich and famous people for their privilege (congratulating the audience for being able to clap and pat their own backs at the same time), and when to deliver a hard joke (that Maher dig). Colbert kept the ceremony from indulging too deeply in its own self-satisfaction.
LOW: "You Don't Own Me" playing as The Handmaid's Tale won, twice.
Almost as bad as The Handmaid's Tale's own you-go-girl music choices.
HIGH: Tituss Burgess as the Westworld cyborg we deserve.
In a Westworld skit that featured Jeffrey Wright and a mostly naked Stephen Colbert, Tituss Burgess starred as the best cyborg Westworld doesn't actually have. If only Westworld had this much fun with its premise. Bleep-bloop.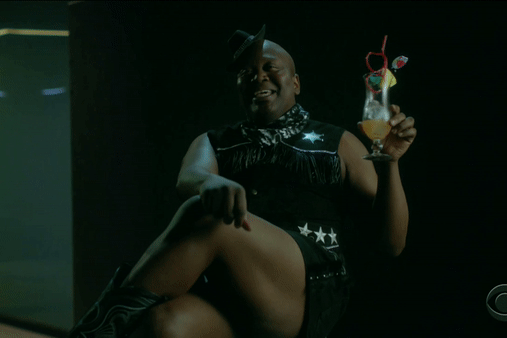 LOW: The surreal In Memoriam picture-frame montage.
Forget the stuffy montages of years past. This time, the Emmys tried the In Memoriam with a different design: Photos of the industry's dearly departed appeared in CGI (?) picture frames (??). It's In Memoriam in the visual aesthetic of a Skymall catalogue.
HIGH: Anthony Anderson's cackle.
Stephen Colbert poked fun at the Television Academy's back-patting about diversity, and then made a joke about Bill Maher using the N-word on air back in June. The best part? Anthony Anderson's cackle, which could be heard even after the camera showed his reaction shot.
LOW: Sterling K. Brown being played off.
The Emmys' musical director was just itching to play people off all night, but nowhere was it more gratuitous than Sterling K. Brown's acceptance speech, when the newly minted Best Actor in a Drama was first played off, and then, when he informed the audience that he would stop for no orchestra, had his mic cut off entirely. Up to that point, Brown's speech had been one of the best of the night, Nicole Kidman had just spent ages up there not five minutes before, and there were only two more awards left. The Emmys ended up finishing at 11:02 — would it really have killed anyone for them to end at 11:04? Let us hear more of that man's silky voice!