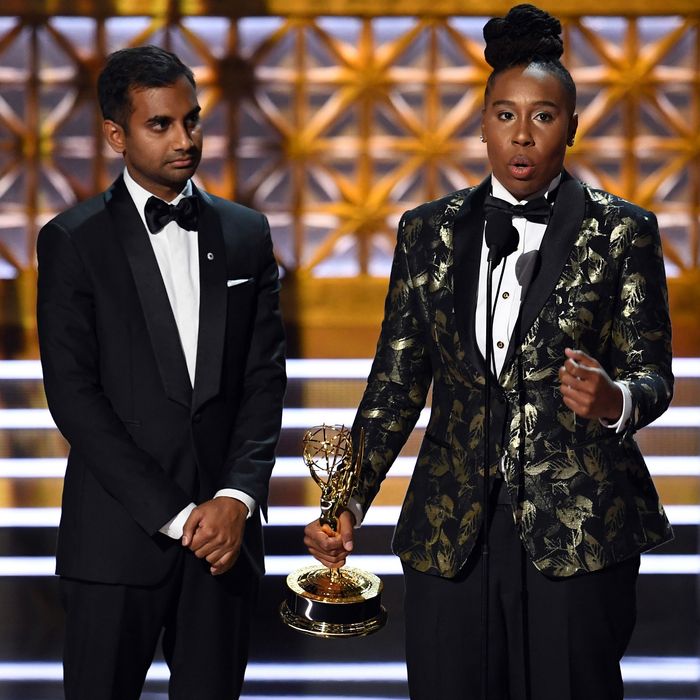 Aziz Ansari and Lena Waithe.
Photo: Kevin Winter/Getty Images
On Sunday night, the Emmy Awards were nearly as full of self-congratulation as actual congratulations. The ceremony included several noteworthy wins for women and people of color in major categories for the first time. But much of the ceremony's celebration of TV's inclusion seemed to ring hollow, given that — as "first-time win" implies — nobody else like them had gotten those awards before. The TV industry as a whole remains overwhelmingly white and male, despite this streak of winners, and both to provide evidence of that and proof that it might be starting to change in small but significant ways, here are some of the major "firsts" at the awards last night.
Donald Glover was the first black director to win an award for directing a comedy. Only three other black directors have won for a drama: Thomas Carter, Eric Laneuville, and Paris Barclay. Glover was also the second black actor to win an award for lead actor in a comedy series, after Robert Guillaume, who won for Benson in 1985.
Lena Waithe, who won an Emmy with Aziz Ansari for writing the Master of None episode "Thanksgiving," was the first black woman to win in the category. The only other woman of color nominated in the category is Mindy Kaling, who was nominated in 2010 for co-writing The Office's "Niagara."
Riz Ahmed, who won an Emmy for lead actor in a limited series or movie for The Night Of, was the first male actor of Asian descent to win an acting Emmy. Archie Panjabi was the first Asian actor to win an acting award, for The Good Wife in 2010.
Sterling K. Brown, who won for This Is Us, was the first black actor to win outstanding actor in a drama this century and only the fourth to win ever, after Andre Braugher in 1998 (something Brown shouted out in his speech), James Earl Jones in 1991, and Bill Cosby from 1966 to 68.
Reed Morano, who won a directing Emmy for The Handmaid's Tale, was the first woman to win in the category since Mimi Leder won for ER in 1995.