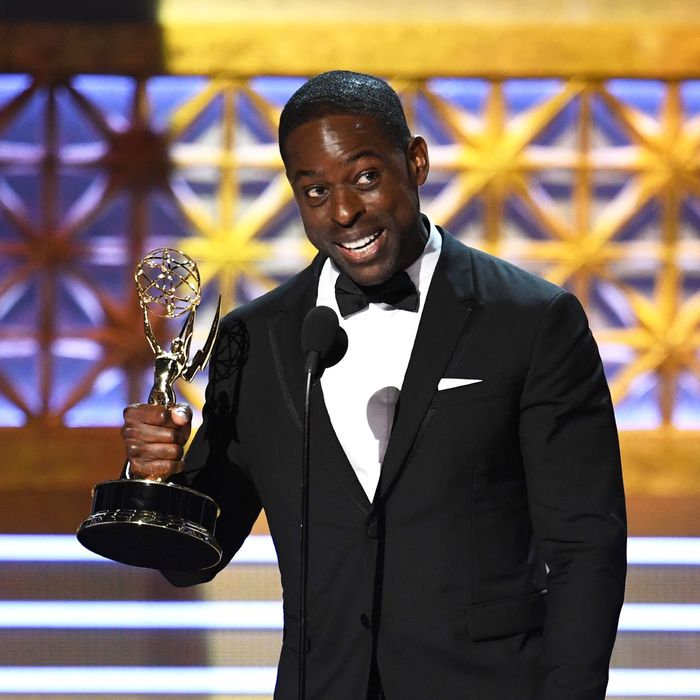 Sterling K. Brown accepts the award for Best Actor in a Drama at the 2017 Emmy Awards.
Photo: Kevin Winter/Getty Images
How much progress was there at the Emmys, really?
A lot. But also somewhat less than meets the eye. And the event was unbalanced by a guest, former White House press secretary Sean Spicer, whose presence confirmed that for all the noise that Hollywood makes about speaking truth to power, it will excuse its shameless abuses to make a joke that's not even funny.
The Academy of Television Arts and Sciences' 69th annual awards show sported a diverse lineup of winners and nominees. HBO's Big Little Lies, about a group of women whose lives become intertwined through a case of domestic abuse, won best limited series, and the women producers who initiated it, co-stars Reese Witherspoon and Nicole Kidman, gave the acceptance speech; the series also won best actress (Kidman), supporting actress (Laura Dern), and supporting actor (Alexander Skarsgård) in the limited-series category (which has some overlap with best TV movie). HBO's Veep, starring and co–executive produced by Julia Louis-Dreyfus, won best comedy yet again, with Louis-Dreyfus setting a record for the most Emmy wins by an actor playing the same role on the same program. Hulu's adaptation of Margaret Atwood's The Handmaid's Tale became the first series from a streaming network to win the top prize in its category. It also won best actress for star Elisabeth Moss, and best directing for series co-creator Reed Morano, the youngest member of the American Society of Cinematographers and the first woman to win in this category since Mimi Leder in 1995 (for the powerful "Love's Labor Lost" episode of NBC's ER).
Riz Ahmed, an English actor of Pakistani origins, won best actor in a miniseries for HBO's The Night Of, about a Pakistani-American cabdriver who is accused of murdering a white woman and becomes hardened during a stint in Rikers Island. He's the first male actor of Asian descent to win an acting Emmy, ever. Donald Glover, the African-American star and creator of FX's brilliant Atlanta, won two Emmys in the comedy category, for best actor and best director. Master of None, the Netflix series by Indian-American actor-writer Aziz Ansari, won the best comedy writing category for a screenplay by Ansari and Lena Waithe (the first black woman to win a best comedy writing Emmy, and the inspiration for a character on the show). Ansari, who won in this category last year, stood by Waithe and let her claim all the acceptance speech time. Sterling K. Brown, who won best actor in a limited-run series last year for playing Chris Darden in FX's The People v. O.J. Simpson, won again this year for his lead role on NBC's This Is Us. As he subtly noted in his acceptance speech, his award marked the first time a black man has won in that category since Andre Braugher took home a statuette for his work on NBC's Homicide: Life on the Street in 1998. (Rami Malek, who is Egyptian-American, won best drama actor last year for USA's Mr. Robot.)
You could tell the Emmy voters were aware that things had gotten better because they carved out several minutes for a montage celebrating diversity, which reminded this writer of nothing so much as the behavior of his own children as toddlers, helping themselves to cookies as a reward for completing a chore they hadn't even properly started yet. Also hard to ignore were the unfortunate disparities in how winners were treated — Brown's marvelous speech was cut short by the orchestra, while the speeches of some white honorees (notably Kidman, admittedly a much bigger star) were permitted to run long. And the Los Angeles Times reported that Ansari and Waithe were asked to step aside in the backstage press area to make way for the cast and crew of Big Little Lies, even though the latter hadn't arrived yet and wouldn't for several more minutes.
All in all, the evening was a striking display of both cosmetic and factual diversity. Although some of the night's big winners — in particular The Handmaid's Tale and Big Little Lies — were overseen artistically by white guys (Bruce Miller and the team of Jean-Marc Vallée and David E. Kelley, respectively), they still offered woman-centric stories that unfortunately could not have been better timed. Big Little Lies' story of women rising up against a serial abuser resonated against President Donald Trump's history of sexist remarks, including his notorious brag during the 2016 election that stardom made it easy to sexually assault women; and The Handmaid's Tale — well, duh. The more harrowing parts of it could probably double as short documentaries of the inside of Vice-President Mike Pence's mind.
But these visible signs of progress and/or resistance were undercut by instances of lameness or hypocrisy. Throughout the evening, there were small and large digs at Trump and his administration. This was to be expected on a night that celebrated a politically very liberal industry during a time of Trump-fueled public displays of racism, anti-Semitism, sexism, and xenophobia, plus a documented rise in hate crimes during the presidential election year of 2016, which Trump had entered the previous summer by declaring that Mexico brought drugs, crime, and rapists into the United States.
But with the conspicuous exception of Jane Fonda, Lily Tomlin, and Dolly Parton comparing Trump to their piggish boss in the 1980 hit 9 to 5, many of the jokes Sunday night lacked any discernible sharp edge. For the most part, they were predictable and unimaginative. Colbert's reference in the Westworld sketch to feeling like he'd been living in a simulation since November 8 was one of the better ones — and it wasn't all that. And it was difficult to take any of outrage seriously when the telecast brought out Sean Spicer, briefly Trump's press secretary, for a joke that resonated mainly with people who watched Saturday Night Live. Spicer walked out onto the stage, appearing to push a half-baked version of the motorized podium that Melissa McCarthy rode through traffic during one of her memorable SNL appearances as a surreal, bellowing version of "Spicey." Spicer, who represented Trump by floating such whoppers as a claim that Coretta Scott King would've supported Jeff Sessions's nomination as attorney general, proceeded to play himself by lying through his teeth, smiling the whole time. "This will be the largest audience to witness an Emmys, period, both in person and around the world," he said, echoing his boss's repeated lies about the size of the crowd at his inauguration. It was hilarious stuff if you take the Maureen Dowd point of view that politics is all just showbiz, anyway. But if you think words actually matter and that some sins shouldn't be forgiven at all, let alone quickly, it was an inadvertently chilling display.
SNL won a bunch of variety sketch series Emmys Sunday night, including best show and best supporting actor (for Alec Baldwin as Trump). It had been at the forefront of anti-Trump humor throughout the season and beyond. But we shouldn't forget that SNL also did much to normalize Trump before that, even inviting him to guest host an episode in late 2015 on the cusp of primary season. It should also be noted that the episode that won SNL a best direction Emmy this year was hosted by another NBC personality, Jimmy Fallon, who welcomed Trump onto his show and mussed his hair as if he were a cute and harmless old granddad. Fallon was rightly decried for sucking up to a wannabe dictator whose brand was all about striking fear into the hearts of anyone who wasn't a straight white man. The Fallon SNL episode was essentially career rehab for Fallon by his network, featuring comical appearances by Baldwin as the president and McCarthy as Spicer and integrating Fallon into the ensemble as if he hadn't just recently undergone experimental surgery to remove his lips from Trump's posterior. Much of SNL's political writing is predicated on the bogus notion that it has any real point of view to speak of. It's more like a pinwheel that spins gently right or left, depending on the prevailing direction of the country's sociopolitical breeze.
Of course, there's a long tradition of supposedly edgy, anti-authoritarian TV programs eventually letting those in power know they shouldn't really worry about all the rude remarks because they're all in good fun: Even NBC's Laugh-In, one of the only 1960s TV shows with any counterculture cred, invited Republican presidential candidate Richard Nixon on for a cameo during the 1968 election season. (His opponent, Democratic candidate Hubert Humphrey, was offered a cameo but turned it down, and later wondered if that decision cost him the election.) But last night's Emmys were a reminder of that unfortunate tradition, as well as confirmation of how superficial TV's critiques of power can be. Colbert, one of broadcast TV's most vocal critics of Trump and his minions, reportedly came up with the idea of bringing Spicer onto the show, and during an after-party, CBS's The Late Late Show host James Corden was photographed kissing Spicer. Spicer spent the first few months of 2017 brazenly lying to cover up his boss's own brazen lies and gaffes, and making more than a few of his own. That CBS's Emmy broadcast would celebrate diversity and wrap itself in the cloak of opposition to the most openly bigoted presidential administration of modern times while simultaneously making Trump's ex-mouthpiece a guest of honor tells you all you need to know about how serious the entertainment industry is about critiquing power. Those seeking a definition of normalization should look no further.