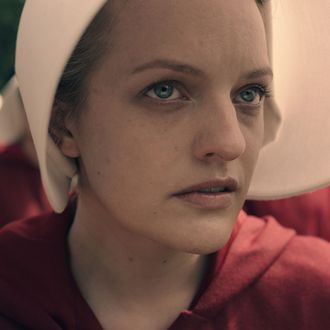 By taking home eight Emmys — including Outstanding Drama Series, Directing, and Writing — The Handmaid's Tale sealed Hulu's place in the prestige TV landscape Sunday night.
As the first streaming outlet to win the top prize, Hulu's springtime hit, based on Margaret Atwood's 1985 dystopian novel, edged out Netflix's two popular contenders, The Crown and Stranger Things. In addition to wins for production design and cinematography, three of the show's actresses also took home Emmys: Elisabeth Moss for her lead role and Ann Dowd and Alexis Bledel for their supporting and guest roles, respectively. "To say that we are honored would be an understatement," Hulu CEO Mike Hopkins said in a press release.
Hulu's historic sweep took most in the industry by surprise, as the ten-year-old company only began to stand out in original programming in the last four years with comedies such as Difficult People and Casual and the limited series 11.22.63. (It also has two high-profile series in the works: The Looming Tower, created by Dan Futterman and Alex Gibney, and Castle Rock, based on Stephen King's stories, and produced by J.J. Abrams's Bad Robot.) Since 2013, when Netflix shook up the TV industry with House of Cards, the streaming giant has received 225 nominations but has not won in any of the most important categories. Amazon, which has triumphed at the Golden Globes with comedies such as Transparent and Mozart in the Jungle, also has yet to receive any substantial Emmys love.
After the win, The Handmaid's Tale showrunner Bruce Miller told reporters backstage that there were many times in the production process when he thought Hulu executives would balk at his ideas, only to have them encourage them, according to The Hollywood Reporter. "They were brave and committed to making the book into a television show, and I also think they were as excited about the show because they're a relatively new company in this environment, making hour-long dramas," said Miller, who is a veteran broadcast-TV writer-producer. "So I think that that enthusiasm that they brought to it — there's nothing old hat about making drama at Hulu — and that enthusiasm was really wonderful and really shows in the show."
Dowd echoed the sentiment in her teary-eyed acceptance speech. "They're very lovely, Hulu," she said.