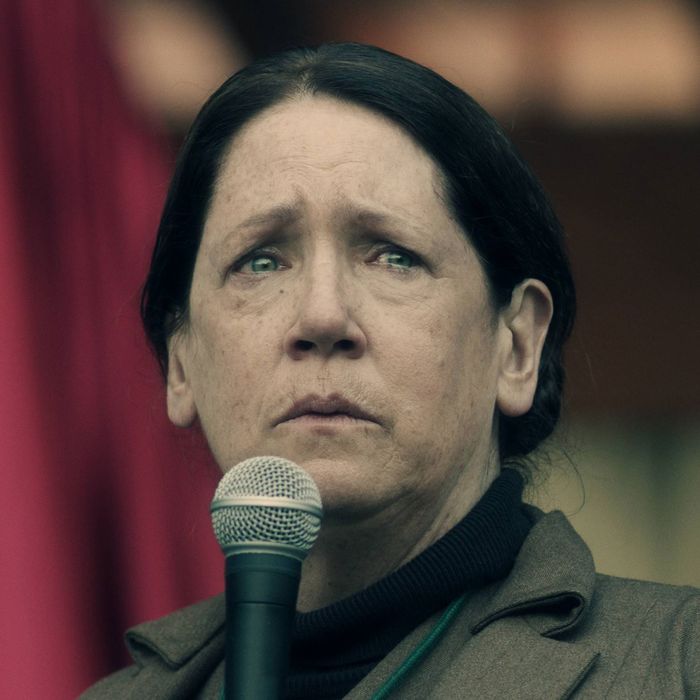 Ann Dowd in
The Handmaid's Tale
.
Photo: Hulu
Despite the growing hullabaloo that surrounds the Emmys, the Television Academy tends to be predictable with the actual awards. Plain and simple, they like hits: They've given 22 Emmys to Modern Family, and 38 to Game of Thrones. It seems likely that This Is Us will take the crown (sorry to disappoint, The Crown) for Outstanding Drama this year, and though there might be some uncertainty in other categories, you probably won't see any major surprises on Sunday night.
But if you're the kind of person who likes to root for upsets because you love drama — or if you're still experiencing a high from that time Tatiana Maslany won — we're here to provide a guide to the Emmy upsets worth rooting for. We didn't choose these nominees because they're likely to win, but because if they did, it would be enough to add a small glimmer of joy to an otherwise dispiriting universe. Also, if you tell your friends you're rooting for an upset in advance and your person snags an Emmy, you get bragging rights! No way to lose here.
Outstanding Lead Actress in a Comedy: Tracee Ellis Ross, Black-ish (or Pamela Adlon, Better Things)
Julia Louis-Dreyfus already has five acting Emmys from Veep, plus two for Seinfeld and The New Adventures of Old Christine. She's still doing terrific work, but does she really need another one? Tracee Ellis Ross, meanwhile, deserves major recognition for her warm, hilarious work on Black-ish, which often balances the perspective of the show. Since Ross won a Golden Globe earlier this year for Black-ish, this wouldn't be a total upset, so if you're really pulling for the underdog, it's worth rooting for Pamela Adlon's performance on Better Things. Adlon was a surprise nominee, and it would be fitting to recognize all the effort that she puts into her brutally personal work.
Outstanding Lead Actress in a Drama: Keri Russell, The Americans
Elisabeth Moss and Claire Foy are the leading contenders for their harrowing and dignified work in The Handmaid's Tale and The Crown, respectively. Either would be a deserving winner, but it's worth keeping an eye on the rest of the ballot as well. Viola Davis is always excellent, because she's Viola Davis, and Keri Russell still hasn't won for her work as a Russian spy on The Americans. Even if that show had an off season, Elizabeth Jennings demands your respect.
Outstanding Actress in a Limited Series or Movie: Carrie Coon, Fargo (or Felicity Huffman, American Crime)
No category has more heavyweights than this one, with Oscar winners Reese Witherspoon, Nicole Kidman, Jessica Lange, and Susan Sarandon all duking it out for the same award. For the record, we're pro-Nicole, but Carrie Coon gave two of television's best performances in Fargo and The Leftovers last year and Felicity Huffman was always great on the little-seen American Crime. Step aside, movie stars: This is TV's night to shine.
Outstanding Supporting Actor in a Comedy Series: Tituss Burgess, Unbreakable Kimmy Schmidt
Alec Baldwin has a yuge lead thanks to his Trump impression on SNL, which saw its ratings skyrocket while pissing off the president himself. But if Baldwin's pursed-lipped preening was too much for you, there's plenty of other standout work in the category — especially considering Louie Anderson's soulful turn on Baskets (which won last year) and Tituss Burgess's scene-stealing role on Kimmy Schmidt. He deserves an Emmy for that Lemonade sequence alone.
Outstanding Supporting Actress in a Comedy Series: Leslie Jones, Saturday Night Live
Of the three SNL actresses in contention, Kate McKinnon has the lead thanks to her versatility and her inimitable Hillary Clinton impression. But it would be a shame to overlook Leslie Jones, who's been willing to throw everything into her characters, and who's transformed Weekend Update into one of the liveliest portions of the show.
Outstanding Supporting Actor in a Drama Series: Jonathan Banks, Better Call Saul (or Jeffrey Wright, Westworld)
As Winston Churchill in The Crown, John Lithgow gave the kind of performance Emmy voters love: finely tuned, period, and with a British accent. If, for some inexplicable reason, voters pass over Lithgow, it'd be great fun to see Jeffrey Wright win for his oh-so-precise work on Westworld, or for Jonathan Banks to finally get an Emmy for bringing Mike Ehrmantraut's grumpy soul to Better Call Saul.
Outstanding Supporting Actress in a Drama Series: Ann Dowd, The Handmaid's Tale
In this stacked category, the awards prognosticators generally favor This Is Us's Chrissy Metz or Westworld's Thandie Newton. Still, we've got a soft spot for Ann Dowd, who already missed out on a chance to win for her guest appearance in The Leftovers, but still deserves plenty of recognition for her eerie performance as Aunt Lydia on The Handmaid's Tale. Listen to Margo Martindale, people: This is Ann Dowd's year!