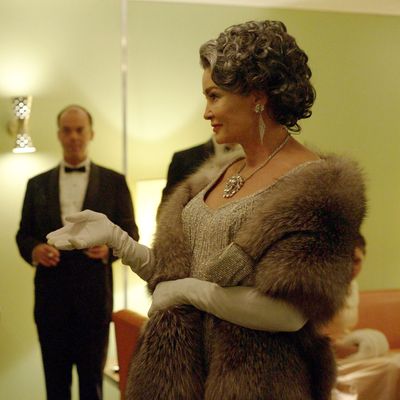 Susan Sarandon and Jessica Lange in
Feud.
Photo: FX Networks. All rights reserved.
In 2012, American Horror Story was submitted for Emmy consideration for the first time as an outstanding TV movie or mini-series, prompting suggestions that Ryan Murphy had shoehorned his murder house into the field so it wouldn't have to compete against the drama contenders. Whether or not that criticism was warranted, it was obvious the tactic worked; the first American Horror Story tied Mad Men as the most nominated show that year, with 17 nods, including one in the outstanding TV movie or mini-series category.
Fast-forward five years to the current moment, when once again, a Ryan Murphy show is competing in what's now known as the outstanding limited-series category. But this time it's Feud: Bette and Joan. While American Horror Story: Roanoke was nominated for more technical achievements like makeup and sound editing, it's entirely absent from the major limited-series categories, in part because there's simply no room for it.
That's because outstanding limited series is one of the more competitive races at the Emmys this year, which isn't surprising given the caliber of shows that fall under that umbrella. (See Big Little Lies, Fargo, the aforementioned Feud, Genius, The Night Of, and American Crime, which only earned nominations in the lead and supporting actress categories because again: It's too crowded up in here.) But it is surprising when one considers that just seven years ago, there were barely enough entries to justify the category's existence. The way the limited-series arena has contracted and expanded in recent years has been a direct reflection of a rapidly evolving TV landscape, one that's still evolving, to the point where it wouldn't surprise me if the outstanding limited-series category, as well as the acting awards associated with it, were redefined yet again in the coming years. If things continue going the way they are, I think they should be.
Before talking about potential change, first, a little history. The parameters of the limited-series race have been adjusted on more than one occasion over the years, but for most of the 1990s, the category operated healthily under the outstanding mini-series moniker. In the 2000s, though, things started to sputter. Fewer mini-series entries were being submitted each year, to the point where, in 2009 and 2010, only two mini-series were even nominated for being outstanding. The problem wasn't that none of TV's offerings merited accolades. PBS's Little Dorrit, the 2009 mini-series winner, earned more Emmys than any other show on TV that year, while HBO's The Pacific was the most nominated program on television the season that followed. The issue was a matter of supply: Networks, especially on the cable side, were more interested in trying to make the next Sopranos than the next Band of Brothers.
By 2009, one of the years when best mini-series was a one-on-one game, five of the top six Emmy Awards — outstanding drama, comedy, and lead actor and actress in both of those recurring-series genres — went to shows and stars that represented basic or premium cable. Ironically, a New York Times piece about that Emmy ceremony noted that cable had an unfair advantage over broadcast fare because its seasons consisted of fewer episodes and therefore could be made with more care and creative freedom. Imagine how heads might have exploded back then if someone had explained what Netflix would start doing just a few years later.
With interest in long-form storytelling on the rise, the Academy of Television Arts & Sciences decided that maintaining a separate space for outstanding mini-series no longer made sense. So in 2011, that category was combined with TV movie, sparking what a Hollywood Reporter headline at the time referred to as an "uproar" from industry insiders who considered the two formats a case of "apples and oranges." However, one unnamed Emmy campaigner boldly predicted to THR that the switch wouldn't be permanent. "Betcha it returns to two categories in the near future," the unidentified source said. He or she was right.
In 2014, outstanding mini-series became a stand-alone category again, and in 2015, its name changed to outstanding limited series. Now the pendulum had swung back the other way, and there were multiple worthy shows that qualified for this designation, though admittedly, it could sometimes be challenging to ascertain why some of them did.
The last season of Treme, for example, was nominated for outstanding mini-series in 2014, even though it had clearly been on for three seasons prior. The fourth season consisted of only five episodes, so that helped its case, although current Emmy rules now state that, "Once a show is established as a series, if additional shortened seasons are added to the series order (fewer than six episodes), it would still be considered a series, unless it was limited to one or two episodes (which would categorize it as a movie and a limited series respectively)." Got all that?
American Horror Story: Coven was nominated that year, too, as both its first and second seasons had been before. Because each AHS season resets with a new narrative, characters, and setting, its producers could and did argue that it should be considered in the mini or limited form, in accordance with the way the Academy defines the genre. This allowed both Treme and AHS to earn nominations that year that might have been harder to come by had they competed against Breaking Bad, Game of Thrones, or Mad Men. Of course, that didn't stop True Detective from bidding for and earning an outstanding drama nomination in 2014 even though, at that point, it could make a clearer claim to being a limited series. (While limited series is clearly intended to highlight one-off shows, Emmy rules give producers the discretion to place their work wherever they choose. You know, just to add to the confusion.)
That brings me to the potential future of the now-loaded limited-series field, which perhaps has not yet reached a tipping point but, given the abundance of television, seems poised to do so soon. Just as the mini-series category was reborn as limited series only two years ago, it seems like it's time to recast the limited series as two separate subcategories with new names: outstanding mini-series and outstanding anthology series.
Let's be real: Most of what we're referring to as limited series are really what once were known as anthologies, series that explore different stories and characters each season or in each episode. Fargo, American Crime, Feud, Genius, American Crime Story, American Horror Story, basically all of the Ryan Murphy shows at this point — they are anthologies, shows intended from the get-go, in most cases, to exist in volumes. That is different from a drama that tells the same story over several seasons or a mini-series that unspools its narrative over a few nights or weeks and then concludes.
But because anthology series are so dominant, they leaves little room for actual mini-series to be recognized. If anthologies were separate from mini-series, it's possible we would have seen nominations this year for Shots Fired, which was promoted as a ten-episode TV event, Gilmore Girls: A Year in the Life, and The Young Pope. (I know there's a The New Pope coming, but that feels more like a single follow-up than an attempt to build an anthology series à la something like AHS. Yes, though even in this proposed scenario, boundaries might still be murky.) More importantly, The Night Of and Big Little Lies, which were made with the intent of being one and done, could have more credibly competed in the mini-series arena, leaving room for shows like American Crime, Black Mirror, or even a half-hour anthology series such as High Maintenance to get some Emmy love.
In the coming seasons, it seems like we're only going to get more of these kinds of shows for those coveted and limited nomination spots. Already, it's possible to imagine that, at this time next year, we may be be talking about American Crime Story, Law & Order: True Crime, Room 104, and Black Mirror on the anthology side; and mini-series like PBS's Little Women, HBO's Sean Penn–starring American Lion, HBO's Sharp Objects (if that winds up being a single season), and Rest in Power: The Trayvon Martin Story on Paramount Network, the soon-to-be rebranded version of Spike. If the baskets in both of these subgenres are truly getting this full, it seems silly not to acknowledge them as separate entities.
There's also another aspect of the limited-series Emmys that needs to change, too, and that's the way the acting nominees are handled. Limited series have become popular in part because they give high-caliber actors the chance to work in episodic television without having to commit to multiple seasons. But right now, some great performances are being overlooked because the acting categories in TV movies and limited series are bundled together, even though as overall works, they're evaluated separately.
Those acting categories are largely dominated by performances in limited (read: anthology) series, which is one reason why Oprah Winfrey — Oprah Winfrey, people! — didn't get nominated for her career-best work in The Immortal Life of Henrietta Lacks, nor did Reg E. Cathey for the same film, nor did Viola Davis for the Lifetime movie Custody.
You may notice that every actor I just mentioned is black; that's another positive result that could come from further cracking open this section of the Emmy ballot. In the four TV movie/limited-series acting categories this year, only three people of color — Riz Ahmed, Regina King, and Michael K. Williams — are nominated. The lead actress in a TV movie/limited-series group is entirely white. While the Emmys may do better generally on diversity than the Oscars, there's still progress to be made. More variety in these categories in particular can only lead to more opportunities to recognize a wider, more representative swath of actors. Oh, and also Jude Law. (Sorry, that's not really a serious issue. I just still find it insane that he didn't get nominated for The Young Pope.)
The question is, how to break this down. In some ways, it makes sense to honor acting in a TV movie as separate from acting in a mini-series or anthology since film is a more condensed medium. But given the sway that anthology series seem to hold over the acting categories — half of this year's nominees come from shows that I would define as anthologies — it seems to me that outstanding lead and supporting performances in anthologies should compete as one group, and actors in TV movies and mini-series — again, meaning one TV event or season, then done — should compete as another.
Creating a set of Emmy categories that are overly niched can, admittedly, be a slippery slope, for the same reasons it was a bad idea for the Oscars to expand its best picture race to ten nominees. Shows or portrayals that wouldn't have gotten nominated normally could start getting recognition that doesn't feel quite justified. That's why the TV Academy should be revisiting and rejiggering its categories constantly, something it has shown a willingness to do. In 2018, the limited series could be broken down into subcategories as I suggested. But in 2020, if the omnipresence of anthology shows starts to wane or we're once again down to a measly two mini-series nominees, these breakdowns should be revisited and modified again.
The Emmys honor a medium that is incredibly unpredictable. This was always true, but it's truer at this juncture than ever before. That means the industry and the voters should be as fluid about the way they reward achievement as TV has become about the way it tells and disseminates its stories. Because as a wise anonymous Emmy campaigner once said: Betcha this will all change again in the near future.