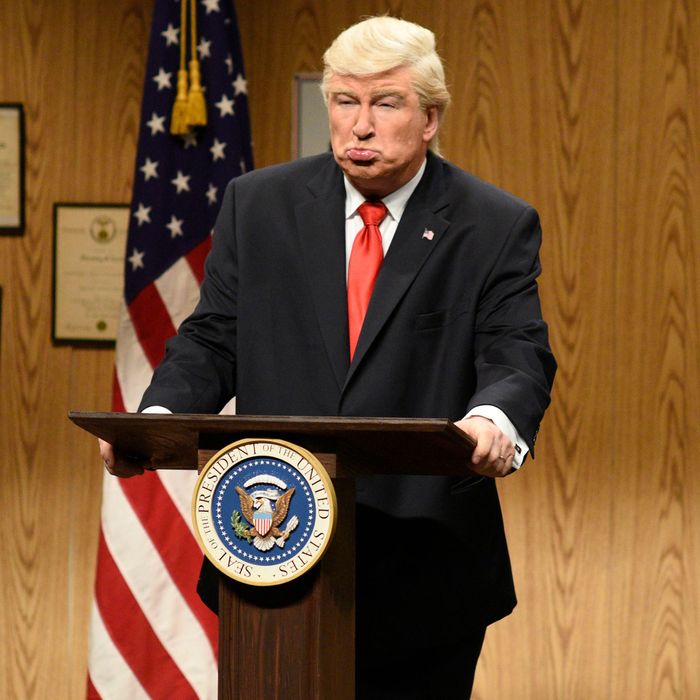 Alec Baldwin as Trump on
SNL
.
Photo: Will Heath/NBC
With more than 100 awards up for grabs each year, the Emmys are packed with so many categories that the ceremony has to air across two separate weekends. Everybody knows the splashier categories like Outstanding Comedy or Drama, of course, but quite a few of the lesser-known Emmy competitions are governed by hard-to-parse Television Academy rules. To help you understand what's nominated where and why, here's a breakdown of the most obscure rules that explain this year's slate of Emmy nominees.
1. Guest Actor versus Supporting Actor
Despite the fact that Alec Baldwin is not a cast member on Saturday Night Live, he's nominated as a supporting actor, not a guest actor. Why? It may have been his preference — performers can submit themselves for lead or supporting roles as they like; Rob Lowe famously submitted himself as a lead for Parks & Recreation — but it's also indicative of a rule change surrounding the guest-acting category. In 2015, after Orange Is the New Black's Uzo Aduba won a guest actor Emmy, the Television Academy decided that only actors who appear in half or fewer than half of a season's episodes may enter as guest actors — a rule which later disqualified Veep's Peter MacNicol from the category in 2016, leaving room for Girls actor Peter Scolari to slide in and win. Alec Baldwin appeared in 15 of SNL's 21 episodes last season, so voilà, he's a supporting player.
2. What Is a TV Movie?
Black Mirror's "San Junipero" is nominated as a TV movie, even though it's really an episode of an anthology series. This seems to be a space where nominees have some wiggle room, as the Emmys simply define a TV movie as "an original program, which tells a story with a beginning middle and end, and is broadcast in one part." Black Mirror isn't the only show that benefits from that loose definition, either: Sherlock got a nomination for its fourth-season episode "The Lying Detective," which, though it does tell a complete story, also features characters involved in season-long story lines.
3. What Is a Limited Series?
Each season of Fargo exists in the same universe, and its ten-episode third season was just as long as Westworld's, but Fargo is nominated as a limited series. Again, this is a matter of choice, as the limited-series category has tended to be less competitive (though that is changing). The Emmys define a limited series as "two or more episodes with a total running time of at least 150 program minutes that tell a complete, non-recurring story, and do not have an ongoing story line and/or main characters in subsequent seasons." As long as the faces are all different each season, Fargo is safe.
4. Contemporary Costumes versus Period Costumes
In a minor but fascinating kerfuffle, This Is Us lost one of its 11 nominations after it was disqualified from a costuming category. The Emmys have different costume categories for contemporary and period/fantasy works, and This Is Us had earned a nod in the former for its season finale, "Moonshadow." But to qualify for contemporary costuming, at least 51 percent of the episode in question has to take place in the last 25 years: Given the number of scenes in "Moonshadow" set in the 1970s, This Is Us didn't meet the qualifications. House of Cards, which takes place in a horrifying version of the present, later snuck into the open spot, alongside Big Little Lies, Empire, Grace and Frankie, and Transparent.
5. How Theatrical Releases Can Win Emmys
Ava DuVernay's documentary 13th won the Emmy for Outstanding Documentary or Non-Fiction Special during the Creative Arts Emmys ceremony last weekend, and it was previously nominated for an Oscar. How did it qualify for both? Although the Emmys tend to exclude material that's released theatrically, they do allow for content that's been screened for awards qualifications or at film festivals, a rule which also allowed Ezra Edelman's Oscar winner O.J.: Made in America to pick up six nominations.