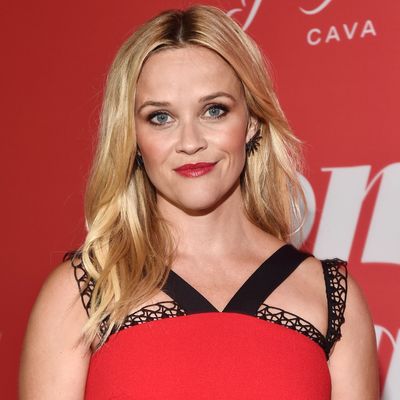 Busy person Reese Witherspoon.
Photo: Alberto E. Rodriguez/Getty Images
Reese Witherspoon is very busy, which is probably one of the reasons why she likes to tweet about coffee so much (also, I assume she just likes coffee). The actress slash producer slash lifestyle mogul has managed to build, and rebuild, a career as one of Hollywood's biggest-name actresses, while also pursuing what amounts to several other full-time careers. As Reese returns to movies in Home Again this week, we've decided to make an attempt to round up all of her various commitments, if for no other reason than to make ourselves feel bad.
Acting
Reese is the star of Home Again, out this weekend. She recently filmed Ava DuVernay's A Wrinkle in Time, out March 9, 2018.* She filmed a guest spot on The Mindy Project with her co-star on that movie, Mindy Kaling. On Sunday, September 17, she'll head to the Emmys with the cast of Big Little Lies and her mom, who is very excited to meet "The Outlander."
She also has announced plans to star in a morning-news TV series with Jennifer Aniston, is reportedly eyeing a role in a biopic about the creator of Barbie, and will play an astronaut in Pale Blue Dot, directed by Noah Hawley. She's long been attached to Disney's planned live-action Tinker Bell, and depending on whether author Liane Moriarty has any great ideas, she may appear in a second season of Big Little Lies.
Producing
Witherspoon has her own, female-directed production company, Pacific Standard, which produced the likes of Gone Girl, Wild, and Big Little Lies and is developing projects including an adaptation of the Australian family book Penguin Bloom, an adaptation of the thriller All Is Not Forgotten, and more. She's also producing a movie about a former member of the Westboro Baptist Church and has a deal with ABC Studios.
Draper James
Like many actresses, Reese Witherspoon has a lifestyle brand. Unlike many of those brands, hers seems to be doing pretty well. Draper James, named after her grandparents, offers clothing and tote bags with a Southern flair. It has stores in Nashville, Lexington, and Dallas, and has recently made a deal with Nordstrom. Reese is working on a Draper James lifestyle book that will include photos and "personal essays about the people and places that influenced her."
Spending time with family
Witherspoon has two children from her previous marriage to actor Ryan Phillippe, Ava and Deacon Phillippe, and one son from her marriage to agent Jim Toth, Tennessee James Toth. That's three (3) children total.
Other obligations
Reese is Elizabeth Arden's "storyteller in chief," a title that sounds like it requires her to spend a lot of time sporting a solid red lip in front of campfires. She has her own cross-platform content company Hello Sunshine, of which Pacific Standard is now a part. She is very active on Instagram and Twitter and occasionally Facebook, which is honestly a pretty big time suck in and of itself. Reese: Please make sure to get some sleep.
*a previous version of this post incorrectly stated that Witherspoon is in Ocean's 8.