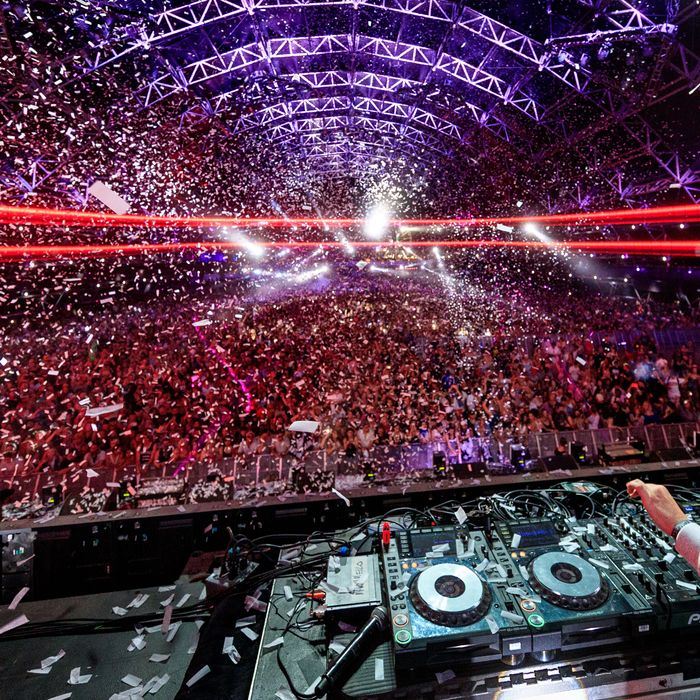 Earlier this year, Australian DJ and producer Anna Lunoe, at the time eight months pregnant, stepped into the booth at the Los Angeles dance festival Hard Summer and tore the Glen Helen Amphitheater to shreds. She wove Jersey club, house, trap, rap, and her own futuristic productions into a tapestry of lithe breakbeats and muscular bass lines. Lunoe is a sophisticated DJ — her quick, confident mixing recalls Todd Edwards or vintage Daft Punk — and many of her selections wouldn't sound out of place at cutting-edge nights in Brooklyn or London. But her sets, punctuated by accessible melodies and earth-shaking low-end, belong unmistakably on festival main stages. It's thrilling that she's able to incorporate niche sounds with a connection to the real world, like Jersey club — an upbeat style of breakbeat dance music that originated in working-class African-American communities in Newark, New Jersey — into the milieu of a massive festival experience. Alongside a crop of artists who also combine sleek mainstream appeal with these kinds of left-field ideas, Lunoe's rise encapsulates what's so exciting about big-tent dance music right now, as it shifts gears away from its stagnant past toward a vibrant future.
"Big-tent dance music" is a catch-all term used to describe music that thrives underneath the literal big tents at major dance-music festivals like Hard Summer and Electric Daisy Carnival. A few years ago, that came with a certain sonic identity — EDM, specifically the florid brostep and tedious "big room" electro-house sounds that sparked SNL's "When Will the Bass Drop" parody. While the rise of this music to mainstream status in America felt thrilling at first, it ultimately began to seem like an empty spectacle signifying nothing more than the profit margins of corporate promoters and Las Vegas nightclub owners. And while those promoters and nightclubs still exist, the hegemonic sound of EDM has begun to fracture. It's definition has become tautological — EDM is music that's played at EDM festivals, basically. Artists like Lunoe can capture the attention of crowds the same size as those drawn by the big-tent stars of yesteryear, while playing music with tangible cultural history and soul.
No shortage of ink has been spilled around the idea that EDM is over. There's some truth to this — event institution SFX Entertainment has declared bankruptcy and Miami Music Week is a shell of its former self. Acts like Swedish House Mafia, Avicii, and LMFAO once felt inescapable. Now, the first have broken up, the second are retired from touring, and the third are presumably lost in a Señor Frog's somewhere. Except for the Chainsmokers's and Calvin Harris's pop-star collabs, dance music hasn't bothered the Top 40 very often this year. Yet it's more accurate to say that EDM is going through its awkward teenage phase than its death rattle. Festivals aren't slowing down — hundreds of thousands of kids attend events like Hard Summer, Holy Ship!, Coachella's Sahara Tent, and Electric Daisy Carnival every year. Increasingly, they're spending time there listening to music that would send a 2011 Las Vegas bottle-service crowd bolting for the exits. There's no easy catch-all term for the diverse sounds replacing EDM 1.0 (EDM 2.0?), but that's not stopping a new generation of artists from rising toward bigger stages and mainstream recognition. Some are already here.
L.A.-based producer Mija launched her career the same way many of her peers did: by catching the attention of Skrillex. In 2014, she played a Bonnaroo after-party, and the dubstep don — who she'd booked for a DJ set in her native Phoenix years earlier — appeared and jumped on the decks with her for a B2B set. They spun house and rap as the sun rose. Three years later, she's become one of the most exciting acts on the big-tent circuit. Her nimble DJ sets hurtle across genres; at Detroit's Movement Festival, she paid homage to the city's techno legacy; a June set at EDC Las Vegas somehow included Björk, RL Grime, Underworld, Deadmau5, Brand New, M.J. Cole, and Panic! at the Disco. Mija's own productions are just as surprising — over the summer, she shared "time stops when i'm with u," a happy hard-core rocket fueled by a dreamy stunner of a hook. EDM 1.0 could feel dislocated from dance music's history, a stagnant bubble whose elite might have kept rehashing the same builds and drops forever if the market hadn't flagged. The corporate backers of massive festival experiences demanded a standardized sound that would be palatable to audiences around the globe. This need for bland scalability forced artists to work within a rigid template. But Mija's blissed-out heaters disrupt that closed loop by incorporating weirder sounds inspired by the glory days of rave, without sacrificing the horsepower needed to move modern big-tent crowds. A great example is her remix of "Come Running" by '90s happy hard-core legend Darren Styles; she updates his timeless ear-candy with contemporary trap percussion, dreamy pads, and pitch-shifted vocals. She even throws in a vocal sample urging listeners to "bring it back to the old-school shit." That's her secret weapon — a talent for striking the balance between digital gloss and sounds rooted in reality, situating the bleeding-edge present in conversation with the psychedelic past.
Mija is just one of many Skrillex disciples making waves. "I heard Skrillex's remix of 'In for the Kill' by La Roux one day, and that flipped my entire world upside down," recalls the young DJ and producer Slushii in a profile on Thump from earlier this year. "I emotionally connected with something about his music. So much of it is turn up, which is awesome; it's so fun. It also has this flip side where it's this feelsy, 'We've been there, too' sort of vibe." Skrillex channeled his screamo past on early hits like "Cinema", lending his signature talking bass lines a vulnerability few of his peers could match. Slushii's productions bear his influence. The New Jersey teenager's remix of Porter Robinson & Madeon's "Shelter" transforms pitched-up hooks, trap percussion, and unabashedly filthy dubstep drops into an emotive machine greater than the sum of its parts.
While Skrillex himself has slowed his creative output and tour schedule of late, his OWSLA label continues to play a key role in the scene. It provides connective tissue between a loose group of artists exploring the fertile terrain of music that's both "turn up" and "feelsy." Slushii, Mija, and Anna Lunoe have released on the label; so has Josh Pan, a beguiling figure once falsely rumored by OWSLA's blog to be a collective of 20 producers. Pan broke out with trap jams like "Platinum," which obscures substantial low-end beneath twitchy beats reminiscent of FKA Twigs. These days, Pan's SoundCloud alternates between left-field bangers like "Tellin You That" and a host of odd experiments, including beautifully crooned covers of Lil Uzi Vert, spoken-word sermons about Ugly God, a collaboration with Awful Records R&B singer Abra, ambient solo piano, a gorgeous "dialogue with myself" analyzing a relationship gone wrong, and "You Wouldn't Understand," a 14-minute stream-of-consciousness "podcast" about Sarah Palin, precognition, and brains living in refrigerators. He comes off like an unholy mix of Frank Ocean, Daniel Johnston, and Garrison Keillor — that he's also playing heavy-hitter sets like this on Holy Ship! offers proof that there's room for freaks under the big tent.
OWSLA took a surprise left turn this summer with its HOWSLA compilation, intended "to push the timeless genre of house music forward for a younger generation." There's been no shortage of house music at festivals after Disclosure's breakout 2012 single "Latch," but rather than adhere to traditional house, songs on the compilation like Skrillex and Habstrakt's "Chicken Soup" meld dubstep and trap motifs with a sturdy house framework. Philip Sherburne at Pitchfork points out a similarity to the wonky British subgenre called bass-line house, an early aughts offshoot of U.K. garage originating in Sheffield. You can hear this sound in other big-room houseketeers like Jauz, who's remix of Tiga and Pusha T's "Bugatti" offers a low-slung thrust equally suited for festival stages and after-hours clubs.
Then there's DJ Hanzel. Back in 2013, ubiquitous EDM star Dillon Francis introduced this parody of a clueless German deep house DJ on his YouTube comedy videos. Over the years, Francis fans have enjoyed Hanzel's antics, whether he's asking Calvin Harris who Elton John is, or uncomfortably flirting with Lunoe. The Hanzel shtick wears a bit thin after a while, but it reflects an interesting dynamic — Francis has taken to DJing in character as Hanzel, and the sets are no joke. He's even released original Hanzel tunes. Clearly, the character provides an outlet for Francis to expand his artistic identity, using humor to ease the culture clash for his die-hard EDM 1.0 fans as he explores his legitimate love for authentic house music.
Elsewhere, a scrappy underground movement has emerged around music that combines a pounding low-end with a kawaii aesthetic. This scene — much of which emerged in the wake of Porter Robinson's landmark 2014 album Worlds — tangentially includes the tongue-in-cheek British collective PC Music and their affiliate Sophie. But outside the glare of the buzz cycle, Los Angeles–based Shawn Wasabi has quietly racked up tens of millions of views on his videos, where he plays original club confections live on a custom-built 64-key Midi controller. Besides his captivating performances, these are ace songs, webs of gossamer Jersey club and trap-pop that dissolve at a touch. Good luck removing "Otter Pop" from your head anytime soon. On the softer side, Japanese producer Qrion's Just a Part of Life EP captures a fragile end-of-summer mood with restrained pads and filtered vocals. Surprisingly, she earned a spot at Hard Summer this year — it's as strong an indicator as you could ask for that EDM 2.0's palette includes subtlety and sentiment.
Traditionalist house and techno fans — the kind of people interested in preserving the spirit of dance music's past against the ravages of the present — ignore the sounds emanating from the modern big tent at their peril. This material captures the outlaw ethos of peak-era rave just as well as "serious" house and techno culture, which often finds itself lost in obsessive retro-fetishization. The original ravers were kids infatuated with the future, losing their minds to the craziest music they could get their hands on. Today, their spiritual descendants can be found dancing on a sunny Southern California racetrack, a Miami nightclub, or a even Caribbean cruise ship.