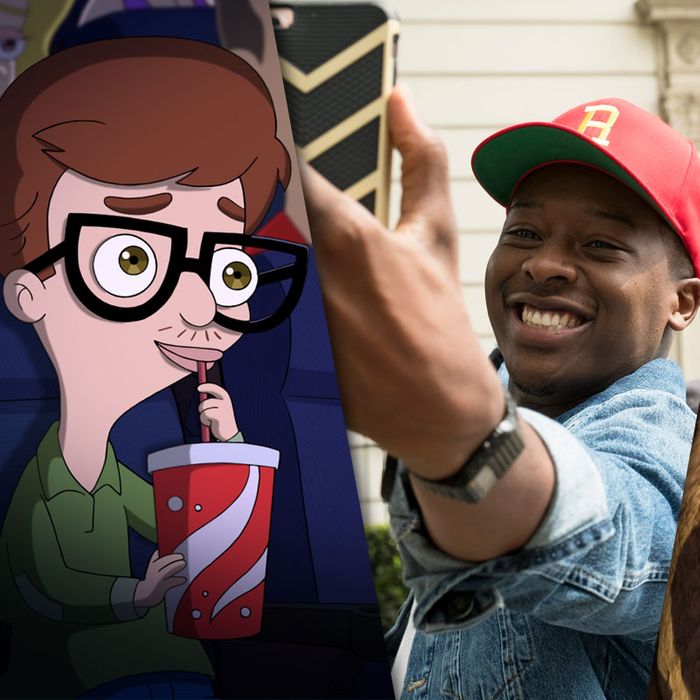 Last year, I wrote a piece declaring that the 2016 fall TV season was the best in recent memory. That assessment was based on barreling through episodes of many new shows and finding more to like than pan, which typically is not how critics react to the period when soon-to-be-cancelled series are as ubiquitous as pumpkin-flavored products at Trader Joe's.
Now it's September 2017, and it appears we are currently facing what Vox has called the worst fall TV season in recent memory. Is this really such a dismal moment for new shows? (Kinda?) Or are media outlets like Vulture and Vox too hyperbolic with their headlines? (Maybe!) Is there anything on television to recommend this fall? (Yes; a few new shows may be worth your while, and several returning ones definitely are, as you'll see in the list that follows.)
In that Vox piece, Todd VanDerWerff explains some of the reasons why fall TV has become less important, including the fact that midseason — the beginning of the new year and spring months — has assumed the title of most robust time for quality television. With more shows on broadcast networks dialing back their seasons from 22 or 24 episodes to 8, 10, or 13, it's natural that scheduling holes have to be filled in spring, and again in summer. Also, just as the fourth quarter of the year serves as the ideal platform for releasing Oscar-worthy movies, midseason provides an ideal launching pad for series hoping to be in the forefront of Emmy voters' minds when the nomination process begins in early summer. Proving that point: With the exception of CBS, the broadcast networks all plan to roll out as many or more new shows during midseason as they will this fall. In other words, you're more likely, in general, to find great television in abundance in March than in September.
The fall season is still pretty overwhelming to get a handle on, though, especially since some series have not been screened in advance. CBS is keeping Star Trek: Discovery, which will stream on its CBS All Access platform, under wraps. Netflix has done the same so far with Mindhunter.  I can't speak for every journalist, of course, but I have not yet seen some of the other high-profile shows coming to Netflix later this season, including Steven Soderbergh's Godless and Spike Lee's revived She's Gotta Have It, nor have I watched the upcoming horror-podcast-inspired anthology series, Lore, which starts streaming on Amazon in October.
Even if I had both access and the bandwidth to view every single series that will land between now and Christmas, there could still be some unexpected, last-minute Netflix surprises that might add a significant point to the season's win or loss columns. As an example, last year at this time, The O.A. was not on anyone's radar and it became a major TV talking point as 2016 came to an end. Bottom line: It's more challenging than ever for critics to fully, authoritatively assess the fall season as a whole.
All of that said, it's completely fair and accurate to say that the crop of new series this fall does not look as promising as last year's. Part of the reason is that broadcast networks simply had stronger slates in 2016, and part of the reason is that some networks known for their quality programming aren't in the show-unveiling game this year. FX is bringing back some established series, but isn't launching anything new, whereas last year, Atlanta and Better Things arrived as autumn officially kicked into gear. In September and October of last year HBO put High Maintenance, Insecure, Divorce, and Westworld on the air for the first time. This year, the premium cable network has just two new fall series, The Deuce and Curb Your Enthusiasm, which is more of a return than a debut. (It's also a show that critics have not seen in advance yet.)
For all these reasons, I find myself recommending a lot of returning series when people ask me what to watch this fall, mainly because so many are rolling out bold, engrossing, and/or really fun second, third, or fourth seasons. Given how much TV exists, there's a good chance that one of them is on your list of things you've been meaning to watch but still haven't, proving that old NBC marketing slogan still holds true: If you haven't seen it, it's new to you.
With that in mind, here's a list of 12 shows that you should be watching this fall based on the dramas and comedies, both new and returning, I have previewed so far. (Note: I said "so far." )
BoJack Horseman (Netflix)
Season four, which our Matt Zoller Seitz called, "the finest single season of a comedy in ages," is dense with jokes and rich with surprisingly emotional storytelling. If you haven't embarked on it yet, I envy you so, so much for having that journey still ahead of you.
Better Things (FX)
Pamela Adlon's observant dramedy was terrific in season one, and might be even more terrific in season two, as Adlon's single-mom protagonist Sam deals with the possibility of real romance as well as some extended-family drama. Episode six, in particular, overflows with so much poignancy and humanity that I nearly cried my eyes out watching it.
The Good Place (NBC)
There are a ton of great comedies on television right now — look above ↑↑and below↓↓ for examples — but The Good Place is the most clever and imaginative one. After ending its first season with a perfectly executed twist, season two picks up from there with just as many inventive curve balls.
Big Mouth (Netflix)
This animated series, arriving September 29, focuses on the horrors of going through puberty and is filled with explicitly whimsical touches, including talking penises, hormone monsters that are very persuasive about masturbation, and tampons that sing a lot like Michael Stipe. As created by Andrew Goldberg, Mark Levin, Jennifer Flackett, and Nick Kroll, who provides voices along with John Mulaney, Jenny Slate, and others, it's also a really tenderhearted portrait of an anxiety-provoking age. This is a Judy Blume book in even more candid, cartoon form.
You're the Worst (FX)
This comedy about crass commitment-phobes is already a few episodes into its fourth season, but there's still plenty of time to catch up. It's worth the effort, as this season Gretchen (Aya Cash) and Jimmy (Chris Geere) attempt to recover from their exceedingly brief, failed engagement while Lindsay (Kether Donohue) and Edgar (Desmin Borges) try to do what Gretchen and Jimmy arrogantly once thought they could manage: a sexual relationship with no emotional attachment involved.
The Deuce (HBO)
If you're eager to invest in a new drama this fall, this is your best bet. HBO has already greenlit the second season of this David Simon/George Pelecanos series, so you know you're not just wasting your time on something that's going to be cancelled. More importantly, like Simon's The Wire before it, The Deuce focuses on a specific type of crime in a specific city neighborhood — the sex trade in '70s-era Times Square — and immediately immerses the audience in its milieu.
Outlander (Starz)
Viewers who like their dramas sweeping, romantic, filled with time travel, and overflowing with to-die-for costumes surely must be watching Outlander, which just started its third season. If you're not or just got behind, jump onboard so you can be caught up by midseason, when things for Claire (Caitriona Balfe) and Jamie (Sam Heughan) get especially juicy.
Great News (NBC)
I heartily endorsed this midseason comedy about a helicopter mom (the brilliant Andrea Martin) who becomes an intern at a cable news show so she can remain parked directly over the head of her journalist daughter (Briga Heelan). And I still endorse it. The first two episodes of season two are an absolute riot that address the current crisis in TV journalism — the term fake news pops up right in the opening of the September 28 premiere — and feature Tina Fey as Diana St. Tropez, the new, Sheryl Sandberg–esque head of the network. Diana didn't write Lean In, but she did write a book called Boardroom Bitch.
Liar (SundanceTV)
This British series is a he-said-she-said drama in which a teacher (Joanne Froggatt of Downton Abbey) and a doctor (Ioan Gruffudd) who happens to be the father of one of her students go on a date that leads to what she says was rape. We've seen this type of story before, on Law & Order episodes and elsewhere, but the first episode hints at deeper layers beneath the surface in a way that will immediately have you hooked.
The Mayor (ABC)
Trying to judge the quality of a show based on a single pilot is a ridiculous exercise, which is yet another reason why it's often challenging to gauge how good the fall season is. That being said, the pilot for The Mayor – a comedy about an aspiring hip-hop artist (Brandon Micheal Hall) who runs for mayor of his California town on a whim and surprises himself by getting elected — is funny and filled with promise, a political show that could be a pure escape from actual politics. It officially debuts on Tuesday, October 3, but ABC apparently has so much confidence in it that the pilot is already available to stream on the network's website.
Crazy Ex-Girlfriend (CW)
The third season of this, happily, still-bonkers musical rom-com puts Rebecca (Rachel Bloom) in vengeance-seeking sexual weapon mode. In other words, it continues to put the crazy in Crazy Ex-Girlfriend, while staging hilariously splashy song and dance numbers, including an "It's Raining Men" riff in the first episode entitled, "Let's Generalize About Men." The season premiere airs Friday, October 13.
Future Man (Hulu)
This action-comedy doesn't necessarily have a wildly inventive premise: an average 20-something guy (Josh Hutcherson) who still lives with his parents and plays video games all the time is recruited by characters from his favorite game to save humanity. But I've enjoyed what I've seen so far, which is engaging and, considering the show's time-travel element, has a bit of a Back to the Future vibe about it. The show also features one of the last performances from the late, lovely Glenne Headly, who plays Hutcherson's mom.