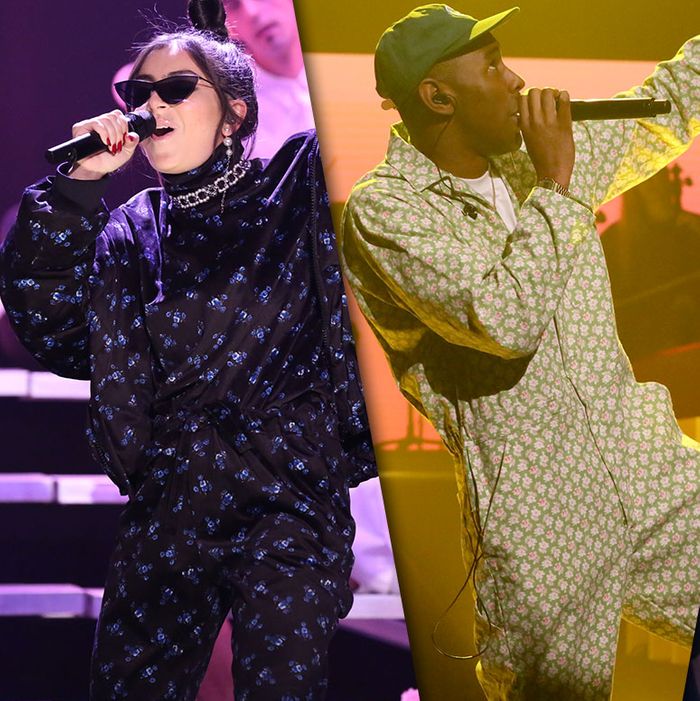 Fallon's excellent music performances got lost in the shuffle.
Photo: Getty Images
Jimmy Kimmel might have won the ratings race on Monday and Stephen Colbert got the flashier exclusive performance of a new song from Chance the Rapper, but Jimmy Fallon had an equally great start to the fall TV season that got lost in the shuffle, though not entirely because of Fallon. Credit should also go to the Tonight Show talent bookers, Fallon's house band the Roots, and the whole team's willingness to get a little weird on late-night for giving Fallon the consistently best musical performances of the week.
Instead of churning out the conventional taped performance — an act promoting their new single in front of a small, usually bored studio audience — Fallon's guests this week each took turns filming what read like stand-alone mini–music videos. Similar to Spike Jonze's cinematic direction of Lakeith Stanfield and Mia Wasikowska's dance performance on the show a couple weeks ago, every performance got to be an original experience, seemingly created for the show. Let's revisit some of the best.
Tyler, the Creator and Kali Uchis
Sometimes, all it takes is switching up the camerawork to boost a performance from good to great. The bulk of Tyler, the Creator and Kali Uchis's duet on Fallon is shot close-up, with the camera panning to Uchis in front of a cloudy backdrop so that Tyler is out of frame, then back to him widening the shot. It ends with both performers offstage, focusing instead on the orchestra Tyler brought with him, plus the Roots, backlit by a sunset. A few simple tricks made the performance that much more effective.
Charli XCX
Charli's unabashedly lusty video for "Boys" starred many famous boys, who definitely weren't all going to be available for her Fallon performance, so instead, she improvised. Charli brought along a new, arguably better squad of boys in all-white uniforms to chill on the bleachers behind her, slowly, casually playing with their millennial pink roses, selfie sticks, teddy bears, and hair dryers. One boy is touching up his drag makeup. He is the best boy, and this is the best way to bring the "Boys" video to life.
G-Eazy and Cardi B
G-Eazy's new song "No Limit" involves the rapper repeating how he'd "pipe" a woman and a lot of other things that would've made this performance missable. However, to spice it up, the show's producers threw a grainy black-and-white filter on it and some visual effects that resemble an old film roll skipping. This does not improve the song, but it does at least make the whole thing look significantly cooler. Did we mention Cardi B showed up for her verse dressed in shades, a fur-lined leather coat, a platinum-blonde lace front, and thigh-high boots like a woman well-aware she's No. 1?
Camila Cabello
Give the lighting people a raise! I don't know what the Tonight Show's electric bill must look like, but creating the illusion that Camila Cabello was performing "Havana" under the Havana sun on the show will have been worth every penny. A round of applause for the trumpet player and for whoever coordinated this performance's monochrome color palette.