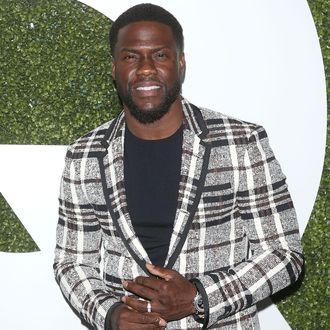 Hart.
Photo: Jesse Grant/Getty Images
The alleged extortion plot that bubbled up over the weekend will now involve the FBI. For those just catching up, Kevin Hart issued a public apology on Instagram to his wife and children over an "error in judgement" that he says has resulted in an alleged extortion attempt (Hart does not get into details, but TMZ reported that someone has been threatening Hart with a video that allegedly shows him in a "sexually provocative" position with a woman who is not his wife). "I'm at a place in my life where I feel like I have a target on my back and because of that I should make smart decisions. And recently, I didn't," Hart said. "But I'm also not going to allow a person to have financial gain off of my mistakes and in this particular situation that's what was attempted. I said I'd rather fess up to my mistakes." According to TMZ, the unidentified woman in the video has allegedly threatened to leak the tape if Hart does not pay her a "multi-million-dollar sum." The FBI reportedly has a suspect, though they have not announced whether that person is the woman allegedly attempting to extort Hart or someone who obtained the footage.
TMZ has described the video at the center of the plot as "graphic," though Hart cannot be clearly identified; the tape reportedly has been edited with audio of Hart in interviews discussing his previous infidelity in his first marriage. The woman threatening to leak the tape says that Hart organized his Hurricane Harvey relief fund to preempt bad press over the tape, however, sources connected to Hart have denied that claim to TMZ. The woman tells TMZ that she wishes to both seek money from Hart and "expose [him] as the liar and cheater he is." Hart's reps confirmed to People that "someone tried to set Kevin up in a failed extortion attempt," noting that the investigation is ongoing.