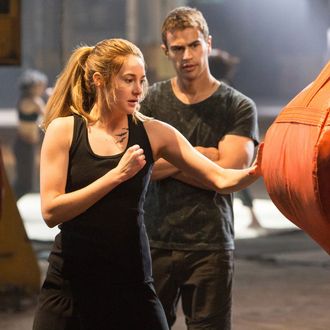 Times Square, but with even more obstacles!
Photo: Summit Entertainment
From the porny Deuce-era 1970s to the overcrowded mascot-filled present, New York has struggled to figure out how to make Times Square work. Finally, it has its answer: A branded "indoor entertainment center" that allows you to live inside the worlds of several famous TV shows and movies. All your problems are solved, New Yorkers! According to Deadline, Lionsgate is planning on building said center in Times Square.
No longer will you have to munch soggy hot dogs on the way to that one giant AMC, instead you can go to "Hunger Games–inspired Peeta's Bakery" or "a Mad Men–themed dining and lounge experience" (racism and sexism hopefully not included). No longer will you have to kill time before a Sunday matinee showing of Phantom with your cousins by sitting on the steps near the TKTS stall, instead you can try out "a Hunger Games flying simulator attraction," "the John Wick: Chapter Two shooting ride," or "a Divergent–themed obstacle course." That last one gets much worse three-quarters of the way through, and by the end they use a cardboard cutout of Shailene Woodley, just like the movies! Lionsgate plans to open the Entertainment City in midtown in 2019, when dystopia finally merges with reality.