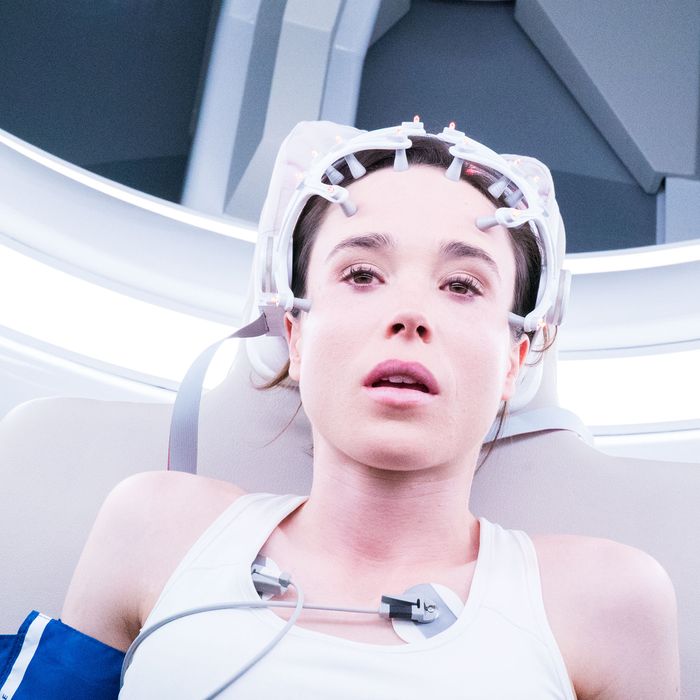 Ellen Page in
Flatliners.
Photo: Michael Gibson/Columbia Pictures
Although Sony Pictures has advertised the hell out of Flatliners, it didn't screen the movie for critics or even put it in theaters for the now-common Thursday night showings. The studio must want to squeeze a decent Friday out of it before the review aggregation sites publish their tallies and word gets out on social media. I wish I could tell you they made a mistake and it's not so bad, but, as Andy Kaufman's Foreign Man would put it, "Ees so bad, ees terrible."
The movie, directed by Niels Arden Oplev, has the same general thrust as its starrier but dull-witted 1990 predecessor: A group of med students (here led by Ellen Page as "Courtney") decide that near-death experiences can be induced by, well, killing someone, and then mapped by a brain-mapping device with all kinds of pretty colors. The trick is to bring the subject — each of the med students in turn — back to life, which you'd think they'd get the hang of but never quite do. (The filmmakers get more cliff-hangers out of the plot that way.) The problem is that what they see aren't …
Here comes a SPOILER, but do you really want to pay money to see this thing? Wouldn't you rather giggle at it along with me?
SPOILER
… angels or devils, but people they've wronged in their past, both dead and living, who are very angry. Or perhaps it's that the wrongdoers are angry at themselves, and their brains generate avenging ghoulies.
SPOILER ENDS
You understand what that means, don't you?
SPOILER
It means that the whole "where do we go after death" thing is a giant red herring, because we're really in the land of Crime and Punishment and other toxic-guilt books and movies.
SPOILER ENDS
So Flatliners loses its most intriguing element, going from a medical sci-fi picture to
SPOILER
a pop-up spook movie that's like a third-rate The Ring.
SPOILER ENDS
The new Flatliners cast — Page, Diego Luna, Nina Dobrev, James Norton, and Kiersey Clemons — is blandly attractive, like an ensemble assembled for a medical-drama pilot destined never to make it to series. Most of them overact while Page — whose character is guilt-ridden over the death of her kid sister in a car she was driving — provides the still but increasingly freaked-out center. I don't think they're all bad actors. Their on-the-nose lines just make them so. It's especially embarrassing when they come back from the dead smarter and start reeling off brilliant diagnoses for their hard-ass supervising physician.
He's played by Kiefer Sutherland, star of the 1990 film, and the new movie keeps you guessing whether he's the same character — who might be able to help. It turns out that he
SPOILER
isn't.
END SPOILER
I happen think that the belief in transcendent, perhaps heaven-bound near-death experiences is wishful thinking and that whatever people experience is the last electrical firing of a brain shutting down. But no matter how skeptical you are, the premise of Flatliners is intriguing enough to draw you in. It's the movie's hard right turn into tidy, cornball, Sunday school moralism that leaves it unrevivably dead.
SPOILER
Not really. I just want to laugh at the spoiler paranoiacs.