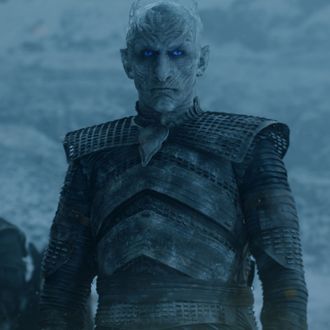 It's the Night King, baby!
Photo: HBO
Game of Thrones will shoot multiple endings for its series finale to keep spoiler-hunters away from the show's secrets, HBO's programming chief Casey Bloys told the audience at an appearance at Pennsylvania's Moravian College, according to local newspaper The Morning Call. "They're going to shoot multiple versions so that nobody really knows what happens," Bloys said. "You have to do that on a long show. Because when you're shooting something, people know. So they're going to shoot multiple versions so that there's no real definitive answer until the end."
Shooting multiple versions of a pivotal scene is an old TV trick that was memorably used on Dallas to hide who had shot J.R., and Thrones has dabbled in the practice before: Kit Harington has mentioned that the show shot multiple fake scenes for season seven to throw paparazzi off the trail. Once spoilers for the final season start leaking, it may be hard to tell what's real and what's not, but heads-up, if you see paparazzi pics of the Night King dancing to "Passionfruit," it's probably fake.