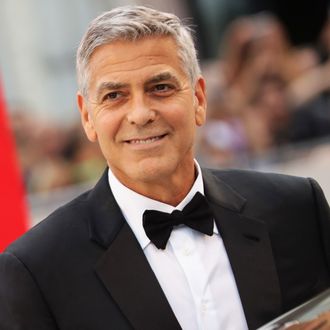 Photo: Vittorio Zunino Celotto/Getty Images
George Clooney's life is, well, perfect. He's married to Amal. They have a set of twins (the twins aren't Sir and Rumi, but still). He directed Suburbicon, an old Coen brothers script. He's living it up on Lake Como. And, while you are friends with approximately zero former presidents, George Clooney is casually texting President Barack Obama. It's cute; they tell jokes that he won't disclose. He couldn't help but tease the details to The Hollywood Reporter:
He and Obama have a jocular relationship that at times teeters into the risque. I glimpse a text from the former president on the actor's phone. "What a jerk!" Obama teases. Has Clooney ever been racy with him? "Sometimes, sure," he says. "A little bit. Not Scaramucci-racy, but … you know, I have over the years with my friends said a lot of really [outrageous things]. I've had an email exchange with Sacha Baron Cohen that's some of the filthiest stuff, honestly. Amal will be on the chain and she'll be upstairs and I'll hear her scream, 'No!' because it's just foul, and you think, 'Well, that would probably not be great if it came out.'"
As for Trump, Clooney seems to despise the current president: "It would be best for the country if some of these Republicans — and some of them I'm very good friends with, actually — stood up [to him]," he said. Perhaps some of Clooney's friends in high places can help.