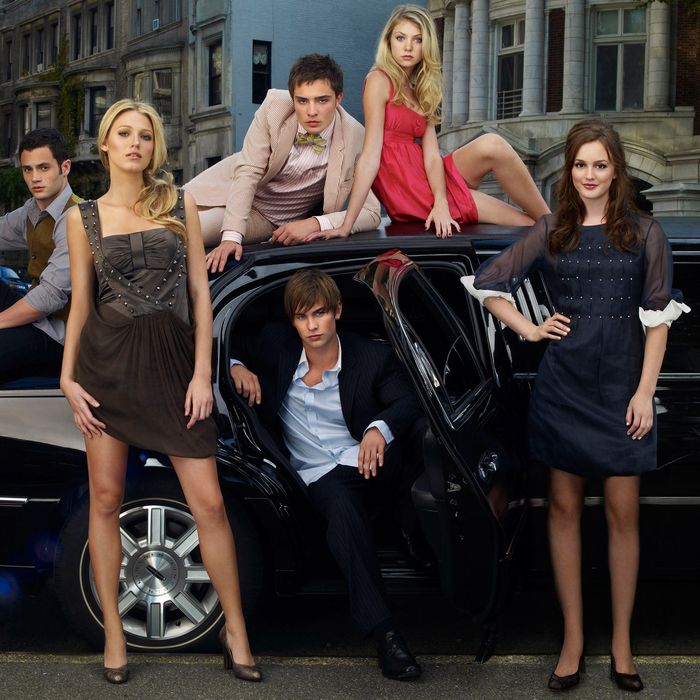 Photo: CW Network/Courtesy Everett Collection
When New York put the cast of Gossip Girl on its cover with the headline "Best. Show. Ever.," the creators of the show felt like they had finally made it. "That was a breakthrough moment that felt like the show had been accepted by the city," said Josh Schwartz, the show's co-creator along with Stephanie Savage. "We always felt that if New York City embraced the show, we'd be in good shape, because that was the hardest audience to win over." It was the beginning of a surreal confluence of text meeting meta-text, where the writers read the show's recaps, and the stars became the obsession of tabloids, just like on the show.
For the tenth anniversary of Gossip Girl's very first episode, we reminisced with co-creators Schwartz and Savage and executive producer Joshua Safran about the things that got left on the cutting-room floor (a box of giant dildos), that Jared Kushner and Ivanka Trump cameo, the casting that could have been (Jennifer Lawrence), and the doll Blake Lively was sending pictures of to her then-boyfriend Leonardo DiCaprio.
Sorry, Lonely Boy, but the creators loved Chuck and Blair more, too.
"Serena and Dan were the original couple because they're in the pilot," said Safran. "But it was always Chuck and Blair, and we always loved writing for them." Much of that had to do with Ed Westwick's (Chuck Bass) chemistry with co-star Leighton Meester, who played the tragic schemer Blair Waldorf. "As soon as we saw the moment of him and Leighton side-by-side, plotting the downfall of Dan Humphrey, it was like, 'Oh, this has possibilities beyond where we had started from,' and we wanted to make that correction quickly," said Schwartz.
Nate and Eric were early candidates for Gossip Girl.
"I always thought it was Eric until the end of season two, and I even guided it that way, but when the New York Post revealed it was Eric — and I still don't know how that happened, I think they were just guessing — and we realized we couldn't go down that road anymore, so we abandoned him," Safran said. Then there was possibly Nate, because we never saw him send anything in to Gossip Girl. But in the end, it had to be Dan, because Dan's a writer, observer, and could write in different styles.
Jenny Humphrey had to be taken in a different creative direction because of Taylor Momsen's music career.
Viewers might have noticed that after the first couple of seasons, little Jenny Humphrey became, some might say, increasingly intolerable. "I cannot say hatable," Safran said. "But I would say Jenny's transformation to a darker character wouldn't have happened had Taylor wanted to be Jenny." Part of this was because the writing changed to suit Taylor herself, who was in a band called Pretty Reckless. "It was hard at a certain point to write for the old Jenny; we had to write for the new Taylor," said Safran. "Taylor wanted her hair a certain way because she was in the band and that was who she was, so we couldn't dye Taylor's hair to be Jenny every day, especially when she had events where she had to be Taylor for the weekend. So Jenny had to change." Eventually, Momsen left the show to pursue her music career full-time. "At a certain point, she just felt like she didn't want to be an actress anymore, which, considering how young she was when she started on the show, was something that we felt like we had to be respectful of," said Savage.
Katy Perry almost appeared on the show, swish swish.
The hoi polloi regularly clamored to be on the show, including Michael Bloomberg and Lady Gaga. One that didn't work out for logistical reasons was Katy Perry. "She was going to appear as herself," Safran said. "It was around the time of a record release of hers, and she had too many obligations so we couldn't make it work."
Oh, and about that Jared-and-Ivanka elephant in the gilded room.
The cameo made memorable by current events is the one by Trump administration family members and acolytes Jared Kushner and Ivanka Trump, who appeared as themselves in the season-four episode "Easy J." Getting them at the time was business-as-usual — there was a working list of socialites and celebrities the show would regularly reach out to in order to fill out the world. "With Jared and Ivanka, it would've been, 'They're on a list and they're in town, reach out and see if they're available,'" said Safran. "People wanted to be on the show, it was a crazy thing." Schwartz said, "We regret not having Jared Kushner speak when he was on the show. We could've had a recorded video of his voice!"
They have no regrets about their cameos, though.
"They are socialites in New York and they do fit the world of Gossip Girl," said Safran. "I'm sure Lily van der Woodsen knows Trump and would have been on the board of charities with him or Melania. That's the world of Gossip Girl, so to deny it would be wrong." Savage adds, "I think it was literally an Observer party."
There are some regrets about the all-white cast.
"When I look back on Gossip Girl, the only things I regret were not as much representation for people of color and gay story lines," said Safran. "Those are the two things I think we probably could have delved into more deeply, but other than that, I only regret things like not showing Chuck finger Blair and the dildos and other sexual stuff."
About those scenes that never made it to air …
Gossip Girl was famously provocative about sex, regularly working conservative parents groups into a lather. There was sex on a hotel bar! A threesome with Hillary Duff! But Standards and Practices did draw some lines, which were mostly incidental. "We had a story about Chuck taking care of Blair under a table at Xan's," said Safran. "I don't think we were able to do it, but we hinted at it." Maybe better yet was a big box of dildos. In the episode where Georgina Sparks (Michelle Trachtenberg) is tormenting Serena from afar, one of the things she does is send her a box of dildos. "There were dildos she sent to Dan at the house, and we had these really huge dildos in this house that Penn [Badgley, who played Dan] was so shocked to see — but we cut it because you couldn't show them on air," said Safran. "The deleted-scene version, which I don't think we ever put anywhere, is hilarious because they're like a foot and a half long. Penn was really shocked."
OMG: Jennifer Lawrence could have been Serena van der Woodsen.
One alternate timeline that could have happened is one in which Jennifer Lawrence was the star of the Greatest Show of Our Time. "Jennifer Lawrence really wanted to play Serena and auditioned," said Schwartz. "This story came to us secondhand, but we were told she definitely auditioned and was bummed to not get it. We can't remember if we saw it or not. It was ten years ago, and she would've been how old, 15?" (She would have been 16.) Now it's time to imagine Blake Lively in Winter's Bone and Jennifer Lawrence married to Ryan Reynolds.
There's some guilt that maybe Chuck Bass — sorry, Ed Westwick — got typecast.
Playing the same character for 22 episodes a season for multiple seasons can be grueling for an actor and hard to break out of. "The one person who I feel got typecast is Ed, and I feel bad about that, because Chuck Bass — as iconic as Blair is — Chuck Bass is more so because that character has got an edge and a darkness to him," said Safran. "But with Ed, I just think that if you see him be light and happy all the time, you'd go, Where's Chuck? He's the one who I really felt that we'd be seeing more, and now we are because he's in a bunch of shows, but for a period he was not working as much."
They almost made a Met Ball story line happen.
Something on the wish list for the writers was the crown jewel of fashion parties: the Met Ball. "We got really close, but it was just too complicated and secretive to shoot at the Met Ball," said Savage. "That would have been the brass ring of Gossip Girl episodes." They said that the Met Ball organizers (ahem, Blake Lively's friend) didn't want to spoil the awe of entering the Met Ball for the attendees with a production crew. "They were adamant that the Ahh! moment when people walked through the doors could not be spoiled by a production crew having been there, even if it hadn't aired on TV yet," Savage said.
The writers obsessively read the recaps.
While the writers may have created the Greatest Show of Our Time, they also read the greatest recaps of our time by Jessica Pressler and Chris Rovzar and their patented "reality index." "Reading Chris and Jessica's recaps was a big part of the show," said Savage. "The first thing we did Tuesday mornings, after the episodes aired, was we read the recaps aloud, which was fantastic. And we'd even save them," said Safran. "We'd wait, and it would be a ceremonial thing where we'd have a good time." Schwartz added: "Vulture was the Gossip Girl for Gossip Girl!"
Oh, and that doll Blake Lively was taking photos of and sending to Leonardo DiCaprio when they were dating?
"I think it was Flat Stanley, wasn't it?" said Schwartz.