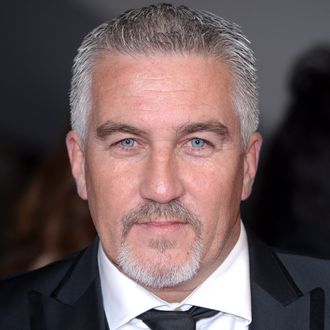 Hollywood.
Photo: Karwai Tang/WireImage
Paul Hollywood hasn't exactly gotten a lot of good press lately due to choosing money over loyalty when The Great British Bake Off changed networks for a bigger payday, and what we're about to tell you won't help him gain any belated favors. As reported by the BBC, Hollywood has apologized for a Nazi officer outfit he wore to a party in 2003, as the photos were unearthed by a British tabloid publication. Specifically, Hollywood claims to have dressed up as a character from the popular British sitcom 'Allo 'Allo! — complete with a red and black swastika armband — and the photos in question were snapped at a pub before he and his friends went to a New Year's Eve party dedicated to "comedy television shows."
"I am absolutely devastated if this caused offence to anyone," Hollywood said in a statement. "Everyone who knows me knows I am incredibly proud of the efforts of those, including my own grandfather, who fought against the Nazis during the war." Mary Berry is presumably unamused.