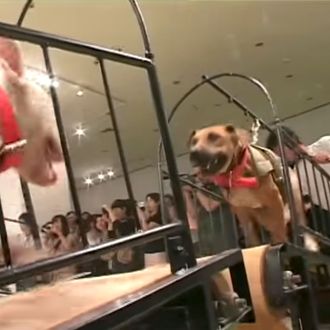 A still from
Dogs That Cannot Touch Each Other
.
Photo: Sun Yuan and Peng Yu
On October 6, the Guggenheim's new exhibit, "Art and China After 1989: Theater of the World," featuring the work of Chinese conceptual artists on nature and globalization, will open without its most controversial pieces. Following accusations that three of the works depict animal cruelty, the museum has released a statement saying that it has pulled them "out of concern for the safety of its staff, visitors, and participating artists" after receiving "repeated threats of violence." Animal-rights activists had started a petition calling for the removal of pieces determined to "employ cruel methods" against animals; the petition now has close to 630,000 signatures.
The three-month exhibit was set to show Sun Yuan and Peng Yu's Dogs That Cannot Touch Each Other, a seven-minute video involving four pairs of pit bulls trained to fight charging at each other on nonmotorized treadmills but unable to touch. "The dogs get wearier and wearier, their muscles more and more prominent, and their mouths increasingly salivate," according to the New York Times. The original performance filmed in 2003 in Beijing used live dogs; the Guggenheim had previously said it would show the video "though the work may be upsetting."
A live exhibit, Huang Yong Ping's 1993 Theater of the World, would have featured hundreds of insects and reptiles encased in a table under a bright light where audiences could observe their fight for survival. "Some creatures will be devoured; others may die of fatigue. The big ones will survive," the Times said. "From time to time, a New York City pet shop will replenish the menagerie with new bugs." (He previously withdrew a version of the piece from a 2007 Vancouver exhibit over similar complaints.) A video of Xu Bing's 1994 A Case Study of Transference, which used two live pigs covered in stamps having sex in front of audiences, has also been pulled.
In its statement, the Guggenheim stressed free speech as vital to the arts. "As an arts institution committed to presenting a multiplicity of voices, we are dismayed that we must withhold works of art," the museum said. "Freedom of expression has always been and will remain a paramount value of the Guggenheim."