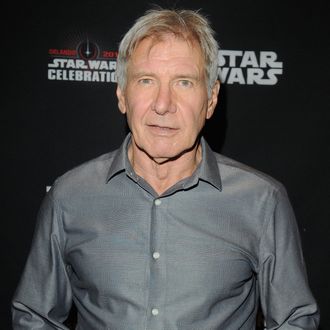 Harrison Ford.
Photo: Gerardo Mora/Getty Images for Disney
Harrison Ford spends most of his GQ cover story dodging questions about his life, work, and career, but there are two things he is apparently happy to talk about: Vice TV shows and frittatas. Seemingly out of the blue, he asks his interviewer if he has ever watched Fuck, That's Delicious, a Vice food series starring Action Bronson. Then, he explains that "I met one of the correspondents at my son Malcolm's apartment. He was sleeping on the couch. Very, very smart guy. And so I started watching it, and it's really, really interesting. Some of it. Just, you know, a distracting and interesting glimpse into somebody else's world." Was Action Bronson the correspondent sleeping on Malcolm's couch? Or was it one of Action Bronson's friends? Can you imagine trying to make small talk with Harrison Ford early in the morning?
Harrison does not provide answers to any of those questions, and instead explains that he was thinking about the show because he was eating a frittata and thought "fuck, that's delicious." "I have a fascination with," he explains, "fri…ta…ta…" In case you would like to cook a frittata for Harrison Ford, he ordered a garden frittata with roasted vegetables, sage olive oil, and a medley of cheeses. Do with that what you will.