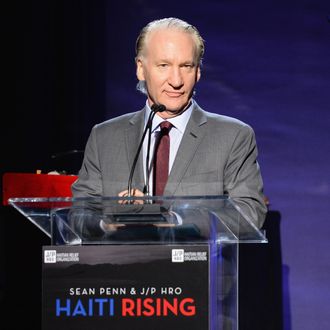 Bill Maher.
Photo: Michael Kovac/Getty Images for J/P Haitian Rel
On Wednesday, HBO announced that it would be continuing its 28-year relationship with comedian Bill Maher at least through 2020. According to The Hollywood Reporter, the premium network has renewed Real Time With Bill Maher for two more seasons, and the deal includes another stand-up special for Maher (his 11th with HBO) and a retrospective highlighting his weekly talk show's best moments.
"We are incredibly proud to continue our longstanding relationship with Bill Maher," HBO programming president Casey Bloys said in a statement. He added, "Bill's distinctive point of view, coupled with his passion and commitment to insightful and informative entertainment, has remained unparalleled."
The renewed commitment comes only a few months after Maher made headlines for his use of the N-word live on-air. At the time, HBO called the comedian's use of the slur "completely inexcusable." Maher apologized during his next episode and Ice Cube came on the show to give a searing explanation of how the host had crossed a line. A month later, Maher ruffled feathers again when he referred to the incident as a "comedian's mistake," and not a racist mistake.
Maher began working with HBO in 1989 with his first stand-up special for the network. Real Time started airing in 2003 — the Emmy-nominated series is currently in its 15th season.