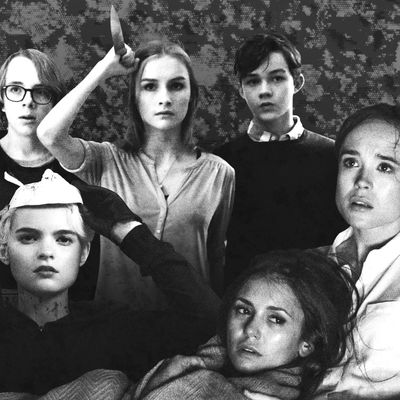 Photo-Illustration: Vulture and Photos by Columbia Pictures, Gunpowder & Sky and Well Go USA Entertainment
It's been an incredible year for blockbuster horror so far, with three movies in the genre clearing $200 million dollars at the box office. (High fives to It, Get Out, and Split.) But the year isn't over yet, and horror's official Homecoming night, Halloween, means there are scads of offerings still on the way. Psycho killers? Check. Telekinetic Norwegian queer coeds? You got 'em. The return of both Jigsaw and Leatherface? It's true. Christmas-themed horror comedy? Naturally. Here's your guide to the rest of the horror movies coming out in 2017.
Welcome to Willits
Welcome to Willits follows a group of vacationing teens who go camping in the Northern California town of Willits, and unwittingly pitch their tents on the property of a "psychotic, drug-addled pot farmer who is convinced that extraterrestrials are out to get him." The funny thing about this movie is that its plot describes Willits as "deep in the woods," "off-the-grid," and "a haven for marijuana growers, meth addicts and conspiracy theorists." There may be plenty of junkies, but one of California's main north-south highways, the 101, runs directly through the middle of town, so it is highly trafficked. But, hey. Artistic license.
Friend Request
Similar to Unfriended from 2014, Friend Request is about a tormented girl whose suicide is broadcast online. In this version of the now-classic tale, a girl named Laura accepts a random friend request and a video of the death posts itself to her timeline. When Laura's friends start dying, she has to figure out how to stop the digital demon from terrorizing her. It's directed by Simon Verhoeven, who is not the son of Paul Verhoeven, and it co-stars Eric from Gossip Girl (Connor Paolo).
The Houses October Built 2
The Houses October Built is like a mainline hit of pure horror movie: The focus is on a few friends who go in search of extreme scares in haunted houses, which means it's just a grab bag of Things That Scare You. After being terrorized by the Blue Skeleton in the first movie, the gang is back together (and still traumatized) for part two. But they're committed to getting on with their lives — and what better way to exorcise the demons than to throw themselves headlong back into an immersive haunted-house experience? Scary clowns, people with weapons running at you from dark corners, strobe lights, ironically cheerful music, a baby voice beckoning you to "come play with us" — it's all here in The Houses October Built 2!
Scareycrows
If scarecrows sit in fields and ward off birds, scareycrows are people dressed as scarecrows (or supernaturally animated figures taking the form of folksy farm adornments) trying to terrorize humans. In this horror comedy from the U.K., it's the latter, burlap-faced figure you have to be wary of. If you're not into nihilistic violence or white-knuckled suspense, why not have some fun with classic Halloween-time tropes, like watching a British seaside get overrun by bad-tempered straw men?
Flatliners
This is not a remake, it's a sequel, which is confusing because its title is the exact same as the original Flatliners from 1990. That movie followed a group of medical students who wanted to try experiencing life after death by stopping their hearts and starting them back up again before brain death occurred. They eventually turned it into a game to see who could stay dead the longest without actually dying, and it looks like the same deal is happening in this incarnation of the story. (We know it's a sequel because Kiefer Sutherland appears as a professor, and the actor says he is playing the same character as before, but he has since changed his name.) The super-'90s ensemble is succeeded here by Ellen Page, Kiersey Clemons, Nina Dobrev, Diego Luna, and James Norton.
Gerald's Game
Based on the novel by Stephen King, Gerald's Game stars Carla Gugino and Bruce Greenwood as a married couple on a getaway, trying to bring the passion back to their marriage. Things start getting dark when Gerald handcuffs his wife, Jessie, to the bedposts, and things get dire when he dies suddenly and she's left chained up in an isolated house, unable to free herself or call for help. As she struggles to get loose, Jessie starts having hallucinations and hearing voices, which makes everything even worse. The highly reliable Mike Flanagan (Hush, Ouija: Origin of Evil) directs.
Super Dark Times
The villain in Super Dark isn't a malevolent spirit or a super-killer. It's teen angst and the power of paranoia. High-schoolers Zach and Josh have been best friends their whole lives, but after a conflict among peers turns fatal, the boys decide to cover up their accident instead of turn themselves over to the police. And as is so often the case, the cover-up makes the crime even worse, and Zach and Josh struggle to resume their lives in the wake of tragedy. Super Dark Times is powered by excellent performances from a young cast, and in addition to being extremely tense, it effectively renders the awkwardness of teenage growing pains.
Better Watch Out
Scary Christmas movies are a real treat when they're done right, and Better Watch Out looks like Home Alone from horror-party hell. It's got a cute babysitter whose annoying ex rachets up his creep factor by staging a home invasion, but who isn't prepared for the tween under her care who's crushing on her — a tween who's about to discover his penchant for revenge killing. Writer and director Chris Peckover, who was presumably a teen boy himself once, understands that hormonal males are truly humanity's most terrifying natural resource.
Dementia 13
The original Dementia 13 came out in 1963, directed by Francis Ford Coppola and produced by Roger Corman. The pedigree for this one is a little lower-key, but it follows the same story: A family that lost a daughter years ago still mourns her death, particularly the matriarch, who still seems to "interact" with her on the creepy estate. It's a movie where everyone has secrets, and instead of just an angry ghost to worry about, there's also a killer on the loose. The worst!
La Barracuda
This small-scale thriller, which got a boost from an Indiegogo campaign, follows two half-sisters who come together for the first time as adults, and who shared the same country-singer father. The more stable of the two grew up in Texas, and when her British sibling shows up at her door to learn more about their family, it slowly emerges that her intentions are not so pure. Instead, she starts "showing glimpses of a violent rage that's been building for years."
Happy Death Day
It's Groundhog Day, but with murder! Or, if you'd rather, Before I Fall, but scarier and less emotional. Tree Gelbman (Jessica Rothe) is a college student who gets killed at a campus party on her birthday by someone wearing a big baby mask. But the next morning, she wakes up, doomed to live her murder over and over again until she determines the identity of her assailant. Judging by the trailer, the movie seems to have a sense of humor about its premise, and could turn out to be a surprisingly good time.
American Satan
What a mid-October mélange! Johnny Faust (could that name be significant?) is the lead singer of a struggling L.A. rock band, and he's just found out his mother (Denise Richards) has a serious illness, which leaves him susceptible to manipulation at the hands of an "enigmatic stranger" played by Malcolm McDowell. This movie has everything: the Sunset Strip, freaky strangers, ailing mothers, and a Faustian bargain for fame and fortune that ends up swaying the course of society as a whole. It's also got John Bradley, who you may know as Game of Thrones' Samwell Tarly. So metal.
78/52: Hitchcock's Shower Scene
This documentary is a very deep dive into the shower scene from Psycho — comprising 78 setups and 52 cuts — that truly changed cinema forever. Hitchcock fiends: rejoice.
The Babysitter
The youth are going crazy this October. This new Netflix horror comedy features a group of sexy high school students who crash one of their friend's babysitting gigs for a little late night spin the bottle, and a little ritual human sacrifice. Similar to Better Watch Out, what begins as a story about a young boy who has a crush on the cute girl hired to look after him shifts startlingly into blood orgy territory. When the cats are away, the Satan-worshipping mice will place! Babysitter stars Bella Thorne, Samara Weaving, Robbie Amell, Hana Mae Lee, and Leslie Bibb, and its directed by McG.
Crepitus
The definition of "crepitus" is "a grating sound or sensation produced by friction between bone and cartilage or the fractured parts of a bone." The movie Crepitus is about a pair of young girls who leave behind a life with a drunk and abusive mom to live in the scary, haunted house of their dead grandpa. Inside, they learn horrible truths about their family and have to deal with a cannibal clown named … Crepitus. This one stars Rob Zombie stalwart Bill Moseley as the titular villain, so that should explain everything.
Tragedy Girls
People's lives being destroyed by craven social-media behavior is so hot right now. In Tragedy Girls, two high-school girls are willing to carve a bloody path through their small town if it means boosting their media impressions. The best friends start out trying to track down a serial killer terrorizing the locals, and realize that, once they've managed to neutralize him, they can gin up more attention for their @TragedyGirls Twitter feed by just doing the killing on their own. The teens in question are Alexandra Shipp and Brianna Hildebrand, the latter of whom is almost unrecognizable from her role as Negasonic Teenage Warhead in Deadpool. Both look like they're having a whale of a time playing sociopaths.
Leatherface
He's back! In an origin re-creation similar to Rob Zombie's Halloween, this reinvention of the Sawyer family's most infamous son focuses on a teenage Leatherface, who has freshly escaped from a psychiatric care facility. It stars Finn Jones, Lili Taylor, and Stephen Dorff, and is directed by the French duo of Julien Maury and Alexandre Bustillo, who are best known for their extremely violent offerings like Livid and Inside.
Nightworld
Jason London stars as a former LAPD officer who becomes the head of security for an apartment building in Sofia, Bulgaria (as one does). Turns out that the building is haunted, though, and Robert Englund shows up as a blind man to deliver creepy wisdom and speak in riddles. Yeah, it's like that.
Cult of Chucky
Here's the impressive thing about Chucky: He's been around for an improbably long 29 years, and he's been voiced by the same actor, Brad Dourif, the entire time. For the seventh installment in the series, Chucky returns to take out Nica (Fiona Dourif), who survived the last movie Curse of Chucky, because no self-respecting murderous doll leaves scores unsettled. And guess who's back to help him? Jennifer Tilly as Tiffany, his former wife. This is a franchise with excellent brand loyalty.
1922
This fall belongs to Stephen King. 1922 is a novella published within the author's 2010 collection Full Dark, No Stars, and it will be the third King screen adaptation to come out in a two-month stretch. Thomas Jane and Molly Parker play an unhappy husband and wife, with her threatening to leave their isolated homestead and take their son, too. Before she can flee, though, Jane's character kills his wife and manipulates their teenage boy into helping him. But this is Stephen King, so don't bet on her staying buried.
Jigsaw
John Kramer, a.k.a. Jigsaw, has been dead for more than ten years, but bodies are hitting the floor again in remarkably gruesome ways harkening back to the serial killer's heyday. Is there a copycat on the loose? Jigsaw's action looks to be set mostly in one extremely terrible place this time; how many Rube Goldberg murder machines do you think can fit into one elaborate torture barn? You can find out on Halloween, when the eighth Saw movie will be brought to you by the Australian brothers Michael and Peter Spierig, who have previously directed strong outings like Daybreakers and Predestination.
Killing of a Sacred Deer
The second pairing of director Yorgos Lanthimos and Colin Farrell (they previously upset and delighted you with The Lobster) — and this time, Nicole Kidman co-stars. Farrell plays a surgeon and patriarch to an ostensibly happy family, but when he's not working, he's inexplicably engaged in a secretive relationship with an eerie teenage boy. Then his family starts getting very, very sick. Everything is extremely vague until it isn't — until, as Vulture's Emily Yoshida wrote in her review, "it's abundantly clear that the artful thriller you're watching has actually been a full-throated horror movie all along."
Thelma
A queer Norwegian science-fiction thriller about a college-age girl who discovers she has extraordinary abilities after she develops an attraction to a female classmate, but it's forbidden because she comes from a family of zealots? Yes, please.
Bitch
Bitch has been described as a psychological thriller, a comedy, a family drama, and a horror film. The story focuses on a suburban wife and mother who, after being ignored and taken for granted by everyone around her — especially her cheating husband — first tries to hang herself in the family dining room before undergoing a strange emotional transformation. Marianna Palka wrote, directed, and also stars as the downtrodden matriarch, who takes on the mannerisms, movements, and postures of a dog. It's feminist commentary of the unsubtle variety.
Sweet Virginia
Sweet Virginia is set in a remote Alaskan town (is there any other kind?), where a triple murder has left the community in terror. Enter Christopher Abbott as a suspicious drifter and Jon Bernthal as a troubled former rodeo champion, and you've got a surprising companionship that leads to "a dangerous association that will set off a new wave of violence." The movie co-stars Imogen Poots and Rosemarie Dewitt, and sounds like it will be super-intense.
He's Out There
Were you also terrified of, but strangely drawn to, Yvonne Strahovski in The Handmaid's Tale? Then see her in He's Out There, an isolated-in-the-woods horror movie in which a woman and her two daughters must survive a pursuing psychopath.
Polaroid
This movie is about a Polaroid camera that kills people, and it has a character named Bird Fitcher. Madelaine Petsch of Riverdale appears in the trailer, but don't get your hopes too high for 90 minutes of that red lip, because it looks like she gets Drew Barrymore'd in the first act. Katie Stevens from The Bold Type may just be killed off by that camera, as well. Tough movie for TV stars.