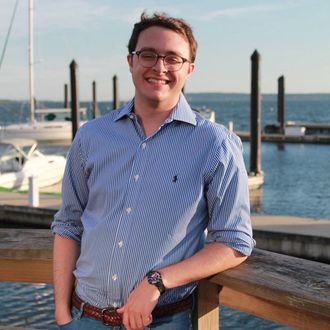 Paul Van Anglen.
Photo: NCMSRI
Remember that time influencers and unassuming, rich music fans descended upon the Bahamas expecting a luxury festival only to be met with the "mass chaos" of Fyre Festival? It was a terrible time for those attendees, but a hefty dose of schadenfreude for the rest of us. Since then, we've seen a New York City pizza festival experience a similar implosion, and now it appears that the classical music world has fallen victim to its very own Fyre-type debacle. The Newport Contemporary Music Series, according to the Boston Globe, billed itself as a world-class, star-studded shindig, but ended up leaving orchestra musicians and soloists unpaid. Paul Van Anglen, a 25-year-old with limited experience booking concerts, was in charge of the July festival, booking work or appearances from three classical-music heavy hitters: Philip Glass, four-time Oscar winner André Previn, and Lord of the Rings composer Howard Shore. Instead of a smashing success, orchestra musicians recalled a failure of "epic proportions that will go down in the Boston freelancing lore of nonpaying gigs." The musicians allege the Newport Contemporary Festival owes an estimated $120,000 in unpaid orchestra musicians fees, plus tens of thousands more for unpaid soloists and other costs.
Van Anglen blames the loss of a key donor at the last minute for the failure of the festival. But by the musicians' account, problems with the festival arose long before they weren't paid. When Van Anglen couldn't secure a proper venue, he suggested hosting the Philip Glass Ensemble in a high-school auditorium. When Glass's producer scheduled a site visit, she said Van Anglen didn't show up. (He told the Globe he didn't think he needed to go; the Philip Glass Ensemble later withdrew from the festival.) A cellist from New York said she got suspicious when she didn't receive sheet music before rehearsals. Others reported Van Anglen could barely make it through the three concerts he conducted.
"He couldn't count to four sometimes," a bass player told the paper. "It was the most inept conducting I've probably ever seen, and that's counting grad students." Then, the morning of a rehearsal in July, Van Anglen apologized and the musicians were let go. Their payments either bounced or were canceled. Van Anglen says he's paid a handful of musicians a total of around $6,500. The young conductor, living at home with his mother, said he hopes to use a mix of private donors and a bank loan to pay the musicians back; meanwhile, approximately 10 musicians have filed small-claims suits against Van Anglen so far.