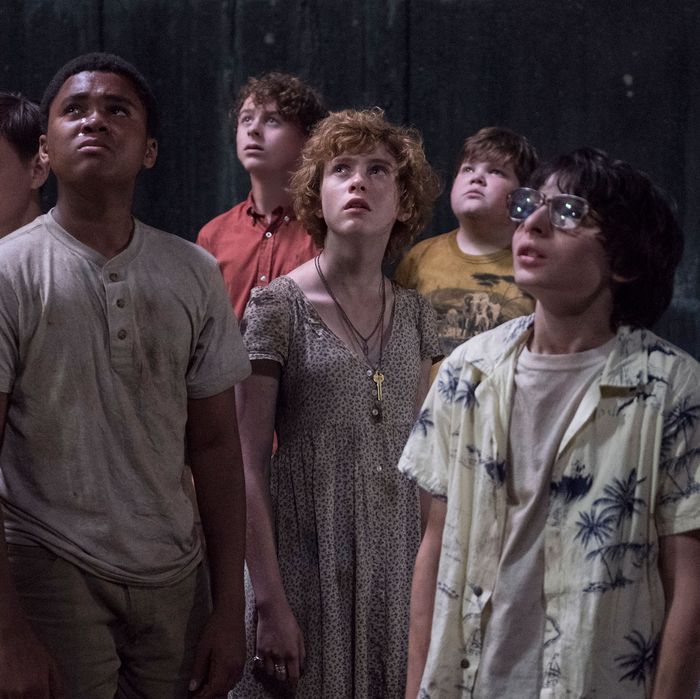 The Losers.
Photo: Brooke Palmer/Warner Bros. Entertainment Inc.
Since its publication in September of 1986, It has enjoyed a long shelf life, first as a book that spent 14 weeks at the top of the New York Times best-seller list and then worming into nightmares as a TV mini-series in 1990 starring Tim Curry as the titular demonic clown/embodiment of children's deepest fears. The monster, which a group of kids simply name "It," manifests as something different for each person based on their specific fears — burning houses, lepers, a dead sibling — and, perhaps because of this, the story has maintained a compelling hold on our collective psyches for more than 30 years. This week, It hits theaters for the first time as a feature film, with a script that was originally set to be directed by Cary Fukunaga, before New Line decided to pivot to Andy Muschietti. (Fukunaga retains a writing credit on a reworked script).
But one controversial scene from King's novel has dogged the book and subsequent adaptations. After defeating It, the kids get lost in the sewer tunnels on the way out; this is attributed in part to the fact that they're losing their "connection" to one another. The solution is to bind them together, which Beverly — the only girl in the story's main group of protagonists, called "the Losers" — says can only happen if each of the boys has sex with her. Where they're timid and unsure, she's confident and maternal. (King writes the first boy Eddie comes to her "the way he would have come to his mother.") The sex is a "consensual" gang bang, with each of the boys losing his virginity, and thus entering manhood, through Beverly.
The '80s was a bonkers time, but the orgy scene in particular has aged poorly; critics and readers looking back at it have called it everything from "disturbing" to "sick" to "insane." A Reddit reader from last year simply asked, "WTF?" and generated over 500 comments. For almost ten exhaustive pages, King describes each of the boys having sex with Beverly and their orgasms as a version of "flying." (You also get the sense that King is a bit of a size queen.) Beverly's desires are positioned as a way for her to overcome her own fears around sex, but mostly the narrative centers on how the boys literally enter adulthood through Beverly's vagina. King released a statement a few years ago through his fan site Stephenking.com, where he wrote, "I wasn't really thinking of the sexual aspect of it… Intuitively, the Losers knew they had to be together again. The sexual act connected childhood and adulthood." Perhaps most horrifying to modern sensibilities is that there is no talk of birth control, condoms, or a realization that a circle jerk would have sufficed.
When the new adaptation was announced, many wondered whether it would feature the scene, or some version of it (though the 1990 version eschewed it entirely). As fans often like to say: It's canon. So does the new version feature a bunch of kids engaging in an orgy? The tl;dr version: No. But while it evades the obvious graphic horror and legal problems of minors simulating group sex, the new film retains a lot of the original scene's problems — namely, its regressive gender politics and sexualization of its adolescent-girl lead.
The 2017 film flattens and reduces Beverly as a character in retrograde ways. It plays up the love triangle between Beverly (Sophia Lillis), Bill (the protagonist played by Jaeden Lieberher, who loses his little brother Georgie at the start of the film), and the chubby kid, Ben (Jeremy Ray Taylor), who pines for Bev and writes her a precocious love haiku. The climax of the film — when the Losers reconnect to defeat It after they initially disband — is prompted by It capturing Beverly and taking her to its lair. From there, it's a classic tale of a damsel in distress: When Bev's friends come upon her, she's suspended in midair, like a pendant lamp. The boys eventually get her down, but she's zoned out, her eyes clouded over. And just as in Sleeping Beauty, Ben kisses her and she awakens. She exists first and foremost as an object of their desire.
It's an odd decision, in part because this is a more classically sexist narrative than what Fukunaga and Chase Palmer wrote in their original screenplay (which was leaked online after Fukunaga and the studio parted due to "creative differences"). In fact, some of the major differences between the old and new scripts involve Beverly in this way; the new script sexualizes her several times, like when she flirts with a middle-aged cashier at a pharmacy to help the boys steal some supplies. (In the Fukunaga script, the hypochondriac kid Eddie, played by Jack Dylan Grazer, fakes a medical emergency). In Fukunaga and Palmer's version, Beverly flirts with zero old dudes and needs no saving. She goes with the boys to Pennywise's lair, launches herself into a waterfall and goes headlong into the fight.
The Fukunaga script does have elements of physical horror that hew more closely to the book. But the focus is different: Beverly's It manifests as blood — buckets of blood that spew from the sink — and Fukunaga makes it clear that the blood is a metaphor for her own fears around growing up and becoming a "woman," something she fears would make her more of a sexual object to men, including her father. The new version, on the other hand, removes the physical horror, but leaves in the male gaze: Her father leers at her, calling her his "little girl" and attempting to harm her physically, but there is no blatant indication of sexual abuse. And while the bathroom blood remains, it's not visually connected to her period or to her fear of her dad, making it seem displaced and random.
The Fukunaga version also wisely sidestepped the orgy scene, but still contains a moment where the kids are lost in the sewer, starting to panic. Beverly reins them all in in a way that's appropriately childlike and innocent.
BEVERLY

Guys, stop it. Focus.




Everyone turns to Bev. Their muse. Their light.




SHE TAKES EDDIE'S FACE IN HER HANDS

SHE TAKES STAN'S FACE IN HER HANDS

SHE TAKES RICHIE'S FACE IN HER HANDS

SHE TAKES MIKE'S FACE IN HER HANDS

SHE TAKES BEN'S FACE IN HER HANDS

SHE TAKES WILL'S FACE IN HER HANDS
While the new adaptation of It doesn't go as far as 1980s Stephen King did, it's simultaneously both more PC and more conservative than Fukunaga's script, cutting out the messy parts of Beverly's life and character to turn her into a trope — a girl who flirts and needs to be saved — rather than metaphorizing her fears. One scene that unites all versions, though, is when the kids each cut their palms and hold hands in a final blood oath. Of course, in the new version, Beverly and Bill have to have their Hollywood kiss, and they do so with her leaving a bloody handprint on his cheek. But it's weird and gross and funny — and, unlike King's orgy, seems exactly like something a kid would do.