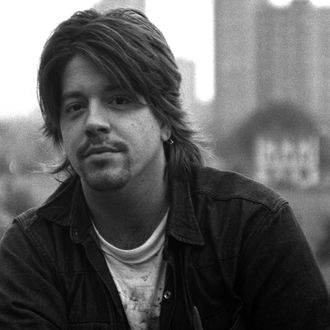 Grant Hart.
Photo: Martyn Goodacre/Getty Images
Grant Hart, co-founder and drummer for the seminal Minnesota hardcore band Hüsker Dü, has died at 56 after a months-long battle with kidney cancer. Variety first reported the news, which was later confirmed by the band's publicist, as well as front man Bob Mould. "Grant Hart was a gifted visual artist, a wonderful story teller, and a frighteningly talented musician. Everyone touched by his spirit will always remember," Mould wrote in a statement on Facebook.
Hart, Mould, and bassist Greg Norton formed the band in St. Paul in the late 1970s and went on to release six albums — 1984's Zen Arcade is credited with laying the groundwork for the alternative-rock explosion of the '90s — before dissolving in 1987 over creative differences, particularly between Hart and Mould. Hart, who also co-wrote the band's songs with Mould and designed the band's album art, admitted to the A.V. Club in 2000 that he never "enjoyed" making and playing the hardcore music that the band drifted toward, calling the style "very limiting and very… dumb." He said his and Mould's increasingly frequent sparring over the band's musical direction came to a head when Mould told Hart, "You're not going to have half an album, ever, in this band," with accusations of drug abuse further fracturing their relationship.
Mould disputed Hart's version of the band's breakup, telling Vulture in 2011, "Grant's story was 'I quit the band, Bob's a tyrant, fuck this whole thing, I was held back.' And I was reading that and I was thinking, 'That's not my story' … Why am I all of a sudden a dartboard? I never publicly made my thoughts known about how the band wrapped up. It's not my story to tell."
Hüsker Dü never reunited — Mould had previously told New York, "There are people who always want bloodletting. It's easier for me to just not deal with it" — though Mould and Hart briefly performed together at a 2004 benefit concert. Mould acknowledged their strained history in his remembrance of Hart, saying, "[T]hat's what it is when two people care deeply about everything they built together." Hart, who had drummed in bands prior to Hüsker Dü, went on to release four solo albums (his last was 2013's acclaimed The Argument, which was based on Paradise Lost), and switched to guitar while fronting Nova Mob in the early '90s.
Cementing Hart's and Hüsker Dü's status as one of the primary influences for the commercially successful bands that carried on their legacy, Green Day's Billie Joe Armstrong wrote in a tribute, "To put it simply there would be no GD if it wasn't for Hüsker Dü … Grant where ever you are , I don't have to put on your records to listen to them. They are memorized in my head." A box set featuring unissued Hüsker Dü songs is set for release in November.