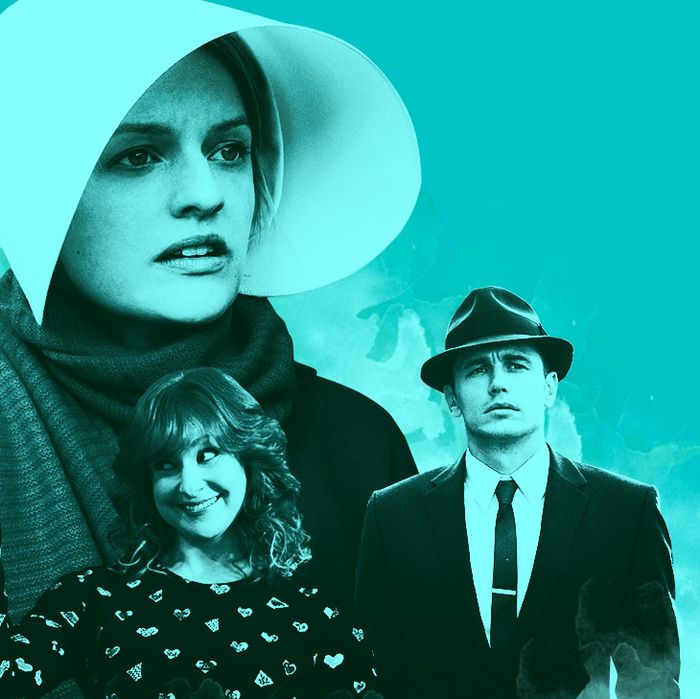 Photo-Illustration: Vulture and Photos by Hulu
This story originally ran on June 15, 2017. We're repubbing it given the network's multiple Emmy wins Sunday night, including Best Drama.
Given its current status as one of the foundational networks of the Peak TV era, it's easy to forget that prior to the premiere of The Shield in 2002, FX was a sleepy little cable backwater known primarily for reruns of Buffy the Vampire Slayer and The X-Files. Likewise, before Mad Men's arrival ten years ago next month, AMC was thought of as the poor man's version of Turner Classic Movies, while Netflix was just a fancy way to watch old movies and TV shows until House of Cards heralded the arrival of must-binge TV. A single successful series does not necessarily a network (or streaming service) make, but TV history has shown time and again that the right kind of hit can absolutely be transformative. Now comes Hulu's The Handmaid's Tale, the Elisabeth Moss–led dystopian drama destined to be remembered as one of the best series of 2017. With it, the streaming stalwart seems to have found its paradigm-shifting success. Its challenge: making sure Handmaid's early blessings resonate well beyond the Emmys and critics' year-end lists.
Handmaid's breakthrough comes at a pivotal moment for Hulu. Launched in 2008 as a sort of digital DVR designed to let viewers quickly catch up on linear network programming, the streamer in the past few years has been evolving into a more layered consumer offering. Next-day streams of network shows remain a distinguishing part of the service, something streaming rivals Netflix and Amazon don't offer. But as Hulu CEO Mike Hopkins notes, even if other subscription services don't carry in-season reruns, networks themselves now make their shows widely available on their own apps and VOD platforms, as well as over-the-air for free. And so, just as Netflix did with House of Cards and Orange Is the New Black, Hulu has spent the last few years developing a slate of original offerings designed to enhance its value proposition to consumers. "Exclusive programming, programming that you can only get here at Hulu, is the thing that will drive our future," Hopkins says. "We can't really rely on growing aggressively over time just on the backs of the last night's television."
Netflix got lucky almost right out of the gate with its originals, scoring back-to-back successes with House of Cards and Orange Is the New Black in 2013, just a year after the world greeted Lilyhammer with a shrug. Hulu has been a bit slower making noise. It's not that the streamer's originals have been flops — hardly. Comedies Difficult People, Casual, and even the low-budget reality parody The Hotwives have generated solid buzz and good reviews. Saving The Mindy Project from cancellation at Fox yielded success, sending a message to consumers and Hollywood's creative community that Hulu was committed to quality original programming. Last fall's limited drama series 11.22.63 made a moderate splash, helping bring some of Stephen King's legion of fans to the service. Hulu has also made inroads with specific demographics through some of its library additions. It was the first streamer to land full series rights to Seinfeld and The Golden Girls, two of the biggest comedy titles of the past 30 years. And while it doesn't get much attention, Hulu has become a premiere streaming destination for anime, something execs at the service point to with particular pride.
But both Hopkins and Hulu senior VP and head of content Craig Erwich gladly admit Handmaid's has broken out in a way no previous original or acquired Hulu series has done before. While Hulu, like Netflix and Amazon, stubbornly refuses to release actual viewing statistics, Hopkins is willing to go on the record quantifying the show's success relative to other Hulu originals. "It was the most-viewed launch of a show in our history," he says, echoing comments he made to advertisers last month. "And I think that trend has continued. The engagement of the viewers is really high. And what I mean by that is that a huge percentage of people are watching every episode. We also just see this massive spike of people coming in and watching it the second that it comes out." What's more, Hopkins hints Handmaid's is driving subscription growth, key for a service such as Hulu. "Every week there are new people joining and starting from episode one," he says. "We've just seen this up-and-to-the-right trend of new subscribers getting in, and existing subscribers keeping up. So it's something that's actually growing week to week, [rather than] that normal decay that you see in Nielsen ratings from the vast majority of shows."
Less quantifiable, but in some ways nearly as important, is the extent to which Handmaid's has cut through the pop-culture clutter. "There is a conversation around Handmaid's Tale that is certainly more intense — and I mean intense in a good way — than any other series we've had, [even] those that have been widely consumed," Erwich says. It takes nothing away from the quality of the show to note that Handmaid's has also been the beneficiary of exquisite timing, arriving during the first 100 days of the Trump presidency. Fears of Trump's own authoritarian tendencies meshed with the show's bleak dramatization of author Margaret Atwood's fictional police state, resulting in mainstream and social media coverage of Handmaid's well beyond entertainment circles. Neither Hulu nor the show's producers had any idea when planning the show that they'd be launching in such a hospitable environment. But much as Fox's 24 got a lift from debuting weeks after the 9/11 terror attacks, at a time when audiences were eager to see tough guy Jack Bauer take on America's enemies, watching Moss's Offred face tyranny takes on a special resonance during another period of national crisis.
While Hulu — and the Hulu brand — has already benefited greatly from the successful development and launch of The Handmaid's Tale, Hopkins and Erwich are under no illusion that they've somehow now guaranteed the service's long-term profitability, or even viability, in a rapidly changing TV universe. "If you look at the history of entertainment, often there can be a show that defines a service, but it does not itself make the service," Erwich cautions. "Because you have to continue to follow up. You can't really rest on the laurels of one." This is particularly true at a time when the Next Great TV Show seems to come along now every three or four months. Mr. Robot, a media sensation two summers ago, was supposed to usher in a new era of edgy, boundary-pushing programming for USA Network. Instead, the series lost its way creatively in season two, and the network has yet to debut any successor series worthy of the buzz that greeted Robot's freshman outing.
Hulu also has its own unique challenges. Its subscriber base, last reported at 12 million a year ago, is substantially smaller than Netflix's or Amazon's, in part because it's only available in the United States, unlike its internationally distributed rivals. (On the other hand, Hulu also makes money from advertising, supplying revenue not available to Amazon and Netflix.) And while there's been no indication any of the major networks are planning to yank back Hulu's next-day streaming rights any time soon, some analysts believe it's quite possible such a scenario could play out in the future. Though most of the major conglomerates behind those networks have an ownership stake in Hulu, it's widely expected they'll one day want to launch their own subscription-based streaming services, using next-day streaming as a key selling point. Though he won't say so directly, Hopkins's aforementioned observation that Hulu's future growth won't come from next-day streaming is a tacit acknowledgment he knows the streamer must evolve to survive. And toward that end, Hulu is taking several other steps — beyond simply Making Good Shows — to both build on the success of Handmaid's and ensure its future viability as TV continues to change:
— Adding 'Hulu with Live TV.' In a further bid to differentiate itself from other streamers, Hulu last month launched a new service for cord-cutters which seamlessly blends Hulu's traditional video-on-demand ecosystem (original programs, library titles, next-day network streams) with the same sort of live-video functionality (including local broadcast stations, depending on where you live) as Sling TV, Playstation Vue, YouTube TV or DirecTV Now. The new platform also boasts a new user interface that allows subscribers to easily jump from watching, say, a live sporting event to a cloud DVR recording of a film from Turner Classic Movies to a new episode of The Handmaid's Tale. While Hulu with Live TV isn't dramatically cheaper than some starter cable or satellite packages, Hopkins says the new service underscores something crucial to Hulu's brand going forward. "We want consumers to know: Hulu gets me," he says. "They understand what I want, and I know I can find it there in a very easy way. And I think that's the proposition that we're building. We want to have your favorite shows — whether we've made them or licensed them — and they will be there for you no matter where you are or what device you're using." Just as the original Hulu helped pioneer streaming, the live TV service gets Hulu in on the ground floor as consumers move away from Big Cable and opens up another spigot of revenue for the company.
— Dramatically scaling up original content. While Hopkins isn't spending nearly as much money making shows as Netflix's "Six-Billion-Dollar Man" Ted Sarandos, Hulu is in the middle of a rapid programming expansion. The Hulu CEO says this year's roster of a dozen or so big-ticket titles is roughly double last year's slate and that 2018 will see the service grow its lineup another 50 percent. "I think we'll end up in the 20 premium shows per year range, which is what, putting Netflix aside, all of our major competitors are doing, if not a touch more," Hopkins says. On tap for later this year or early next: The 9/11-themed The Looming Tower (starring Alec Baldwin and Jeff Daniels); the Stephen King–inspired Castle Rock; Seth Rogen's sci-fi comedy Future Man; and space-exploration drama The First, from House of Cards creator Beau Willimon.
Hulu is also getting into the Marvel business with an adaptation of the comic Runaways, while expanding the kinds of originals it does. That means more first-run documentaries (like last month's Batman & Bill and the just-released Dumb: The Story of Big Brother Magazine) and a new Sarah Silverman comedy talk show. "Originals are essential," Erwich says. "They're not essential to the exclusion of other things, but they're really still the best way for you to express and define your brand to your consumers." To help manage and expand Hulu's newly enlarged programming portfolio, Hopkins recently recruited AMC programming chief Joel Stillerman — a.k.a the man who helped develop The Walking Dead — to serve as its first chief content officer. "Given that our strategy is to dramatically increase not only the number of [originals] but the quality of them over the next couple of years, we felt that we needed some more help," Hopkins says. "Craig and his team were doing a great job, and I think having them working with Joel now is really gonna give us a lot more firepower and a lot more scale in what we're able to do."
— Bucking the trend toward binge releases. Releasing every episode of a new show all at once is standard operating procedure at Netflix and Amazon Prime. At Hulu? Not so much. After debuting the first three hours of Handmaid's on the last Wednesday in April, Hulu dropped new episodes of the show once a week until this past Wednesday's finale. The streamer's Jeffrey Donovan fake-psychic drama Shut Eye, on the other hand, had all its episodes arrive at once last December. Hopkins says Hulu will continue to experiment with release patterns, picking whichever one the service thinks best serves the show and audiences.
And yet, when pressed further, Hopkins makes clear his preference right now leans toward a traditional weekly rollout episodes. "There's a certain amount of joy that our research has demonstrated a lot of people get from having something breathe, and come to you on a weekly basis, as opposed to having all of those episodes up," Hopkins argues. Plus, he adds, "There's this sort of shared experience that happens when you're watching the show together — whether you're physically together, or your friends are watching from wherever they are, and you talk about it later. That shared experience of consuming over time is part of TV — the anticipation of the next episode, and then the conversation that ensues after it. In many ways you lose when all the episodes are up at one time, and then people are watching it at their leisure." The episodic release pattern also serves another function for Hulu: It keeps its shows in the pop-culture spotlight for a longer period of time, important for a service still evolving its brand. With some Netflix producers now quietly complaining about feeling their shows get buried in the service's avalanche of content, Hulu's more-targeted approach might even be a selling point as creators decide where to bring their projects.
Particularly in today's extraordinarily volatile media environment, it's hardly a given Hulu's present Handmaid's-powered hot streak will continue (though its big showing at the Emmy Awards certainly helps). Established media brands once considered invincible — the broadcast networks, cablers such as MTV — are struggling to reinvent themselves, while even almighty Netflix has had to admit recently it can't keep every show alive forever if viewership isn't large enough. But with its live-TV play and an attractive-looking slate of future programs, Hulu seems well positioned to take full advantage of the momentum The Handmaid's Tale has delivered. Blessed be the fruit.