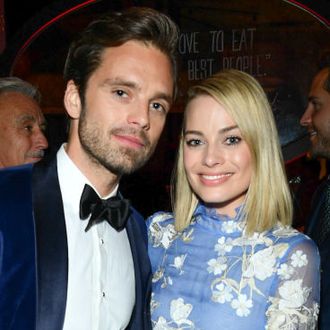 Sebastian Stan and Margot Robbie.
Photo: George Pimentel/WireImage
It might be best to stay out of Margot Robbie's way when she's in character. She may not have known at first that her character, Tonya Harding, was a real person, but while on set — as she told the audience after the Toronto Film Festival premiere of I, Tonya — sometimes she got so into playing Harding that she forgot she wasn't actually in a volatile, violent relationship with Sebastian Stan's Jeff Gillooly.
Asked to name her favorite moment shooting the movie, she cited a scene with Stan that never made it to screen. It was part of a montage where things are getting so bad between Tonya and Jeff that the police show up. "[Director Craig Gillespie] kind of on the day was like, 'Just do whatever in the moment,'" said Robbie, "and we got so carried away that I genuinely forgot that we were on a film set and that I wasn't Tonya and that he wasn't Jeff." The ensuing fight was so intense, Gillespie had to cut it. "We got into, like a brawl," said Robbie, clearly proud. "He slams my hand into the door. And I ended up storming off down the street, which was, like, the end of set, so I was just on the road in the real world." She turned to Stan, "And you were coming after me, screaming, 'Where are you going?' I think you even said, 'Margot,' and I said, 'I'm going to the hospital because you broke my hand!' And I was so caught up in it and I think I punched you in the side of the head!"
Stan agreed that Robbie had indeed punched him in the head. Still, she went on, "That ended up being my favorite scene because I forgot that I was acting, and nothing makes me more exhilarated when I genuinely forget where I am."
Something tells us that Sebastian Stan and the side of his head might feel a little bit differently about their favorite moment in the movie.