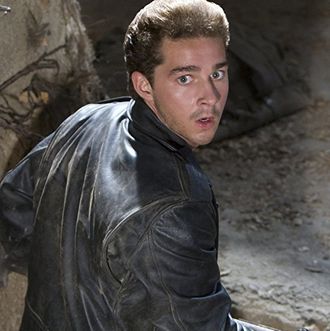 What?
Photo: Paramount Pictures/IMDB
That upcoming Indiana Jones sequel you've possibly been willfully forgetting about is still happening, but without Indy's Kingdom of the Crystal Skull co-star. Screenwriter David Koepp confirmed to Entertainment Weekly that Harrison Ford would return to his iconic role and "the Shia LaBeouf character is not in the film." LaBeouf played Jones's son, and potential heir to the franchise, Henry "Mutt" Walton Jones III, in the fourth installment. LaBeouf's thrill-seeking character was sold throughout the 2008 movie as the second generation picking up the fedora and bullwhip, but the actor seemed to regret his part in the series. He told the Los Angeles Times in 2010, "I feel like I dropped the ball on the legacy that people loved and cherished."
Still, this development is hardly a surprise. Director Steven Spielberg claimed in 2015 he never had any intentions of another actor taking over the role, even going so far as to say there were "more adventures out there" for Ford as Jones. Sounds like the septuagenarian still has some boulders to outrun.