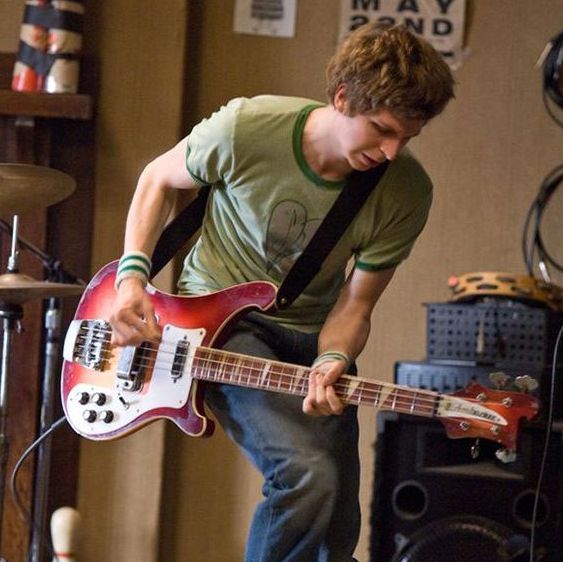 Cera.
Photo: Universal Pictures
Music is perhaps not the first thing you think of when you think of Michael Cera. The first thing may be Arrested Development. Or Superbad. Or Juno, or Crystal Fairy & the Magical Cactus, or Nick and Norah's Infinite Playlist, or the time your friend saw him in Brooklyn at a restaurant, or his Shouts & Murmurs piece, or Michael and Sarah O'Brien, your cousins. But Cera's passion for music has been obvious throughout his career, and it's taken him from playing in the indie-rock supergroup Mister Heavenly, to playing on Weezer's Hurley, to singing that song in Juno (not in this order), to releasing his 2014 full-length bedroom folk album True That, which would have been good even if it weren't from the Michael Cera whom you liked so much on television. So, I think it would be fair enough to say that music could be one of the first-er things you think of when you think of "Michael Cera." Not that I would ever tell you what to do.
Cera recently expanded his musical résumé, writing and performing the score to Antonio Santini and Dan Sickles's Sundance-winning documentary Dina. This week, he released the soundtrack's sort-of single "Best I Can," featuring Sharon Van Etten, after recording it in the rehearsal-slash–recording space they rent together, and in which they split their time. Then, he emailed a lot of journalists about how the song was coming out. I recently talked to him on the phone about the experience, and his voice sounded exactly like Michael Cera's.
"I wanted it to be as easy and as quick as possible for Sharon," he said. "So, I wrote the song, I built up the track, and put a scratch vocal of myself singing so she could listen to it and know what we were doing. Then she came in and it really took less than an hour to get her performance. And I was so pleased with what she did. I think she brought so much to it."
The song was written for potential inclusion in Dina, but ultimately wasn't used. Cera wanted to take a swing at writing an '80s pop song to go over a particular montage — using a drum machine for the first time in his musical career — but it was rejected. "They ended up rejecting it for that spot," Cera explained, "because they'd gotten attached to the song that is in there now, which is 'Only You' by Yaz." Santini and Sickles decided to release the song as a single anyway, to give it life, and they directed a video to release with it.
Though he wrote the song to the documentary, Michael wanted to make sure the song's lyrics weren't too specifically attached to it, "because if it was played over the movie it would be kind of cheesy. If you had lyrics describing, like, what we were seeing, or something."
"Like that Goo Goo Dolls song," I said on the phone, in response, a comment to which Michael Cera did not react, which is fine. Maybe not everyone has my frame of reference. I meant the song from City of Angels — remember? That song pretty much just tells you what happens in that movie. That Nicolas Cage (an angel invisible to humans, wandering Los Angeles) doesn't want the world to see him because he doesn't think that they understand, etc. "And I'd give up forever to touch you, 'cause I know that you feel me somehow. You're the closest to heaven that I'll ever be, and I don't want to go home right now." That's literally just what the movie is. Anyway, Michael said of the song that we were actually talking about, "I wanted it to be universal enough that it could stand on its own. And if it was in the movie, you wouldn't necessarily know if it was an original song or just something you'd never heard before."
Not like the Goo Goo Dolls.
Cera came to score Dina after watching a screening of the movie and boldly asking directors Antonio Santini and Dan Sickles if he might be able to take a shot at putting music to it. "I had a feeling about what kind of music would fit. I wanted to take that on, I wanted to try it. And they let me," he said. The music itself is minimal and bare. "The movie has a very intimate and dry tone to it and you really feel like you're very inside their relationship. So the movie didn't warrant an overbearing or cloying score."
I asked if he needed to pitch Santini and Sickles on the tone of the score, or if they just let him run with it. He said its tone can sometimes be difficult to explain, but that they were on the same page from the beginning about the instrumentation. "Very simple, nothing too ambitious, like horns, or anything. It's mostly guitar, piano, and, well," he said, "there are a couple horn parts here and there. But it's honestly pretty small. For the most part the movie is very quiet. You're just there, sitting in the room with them. It's a beautiful movie."