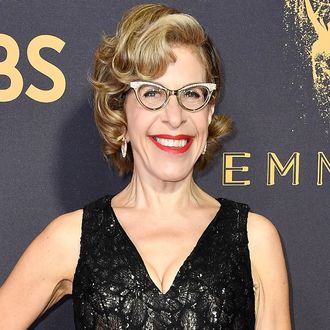 Photo: Frazer Harrison/Getty Images
Look, the majority of tonight's Emmy nominees were forced to hold back a strangled cry of raw despair when they lost. Jackie Hoffman just did a slightly worse job of stifling it than everybody else. The Feud actress visibly shouted "Damn it!" after losing to Laura Dern, vibrating with comic distress as the Big Little Lies star took the stage to receive her award for Outstanding Supporting Actress in a Limited Series or a Movie. It's called acting, Jackie. Never let them see you cry. Or, in this case, howl in Laura Dern–related rage.
Hoffman then took her over-the-top wrath to Twitter, taking out her anger in a series of anti–Laura Dern tweets that hopefully few people actually took seriously, because if they did, good lord. If only Shailene Woodley would have won, surely she would have let Jackie Hoffman accept the award in her place. It's not like she would have cared. Shailene doesn't even own a TV.