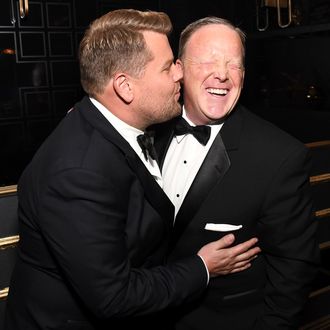 James Corden, left, kisses Sean Spicer in the green room at the Emmy Awards.
Photo: Charles Sykes/Charles Sykes/Invision/AP
In one of the low points of Sunday night's Emmys ceremony, Stephen Colbert invited former White House press secretary Sean Spicer onstage to make a joke about the size of the audience. In an even lower point, all of the celebrities tried to hang out with Spicer after the show, despite their avowed liberal leanings and Spicer's track record of lying on behalf of President Trump. In one photo, which received a lot of flak online, you can see James Corden kissing Spicer on the cheek. At the beginning of his show last night (a clip isn't available, but you can watch it here), Corden tried to explain himself:
The big winners last night were Donald Glover, Hulu, and former White House Press Secretary Sean Spicer. Spicer won Best Actor in a Comedy for his role in Donald Trump's administration. I'm kidding of course, but Sean Spicer actually did make a cameo at last night's ceremony, and according to some reports, at the after-party, Spicer was the most popular guy in the room. And I just want to say — I think people are forgetting that this man lied to the American people and should not be embraced. These Hollywood phonies kissing up to Sean Spicer are disgusting. I mean, who did this? Who are we talking about here?
At this point, Corden revealed the photo of himself kissing Spicer. He continued:
Now … I know you think that's a picture of me kissing Sean Spicer, but in the spirit of Sean Spicer, no it isn't. Anyone ever have that feeling when you get a little drunk and then wake up the next morning and think, Oh God, who did I kiss last night? It's a bit like that. To be fair, everyone was kissing ass last night at the Emmys. I just happened to kiss the biggest one there. Understandably, some people have been disappointed by this photo. In truth, I'm disappointed by it as well. I've been reading a lot of harsh comments on Twitter today and I hear you loud and clear. Truly, I do. So much so I'm really starting to regret that Carpool Karaoke that we've taped with Steve Bannon. Feels like a mistake today.
Corden continued by saying, "I can promise you that kiss was a one-time thing. I'm not one of these people who has a couple of drinks and goes around kissing people that I don't know." Then he segued into a bit in which he showed photos of himself kissing everyone from Joseph Gordon-Levitt to Allison Janney to Harry Styles. "Basically, what I'm saying is," Corden said, "I need to learn how to shake hands."
Or he could take a note from Jason Isaacs and avoid Spicer entirely, then later ream him out on Instagram.