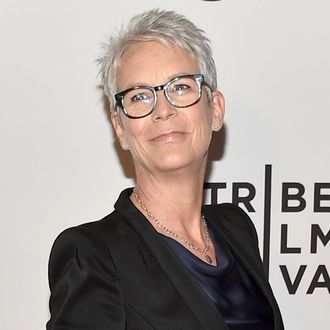 Jamie Lee Curtis.
Photo: Mike Coppola/Getty Images for Tribeca Film Festival
Leave it to the original and all-time great Scream Queen, the most Final of Final Girls, to defy death with resurrection. Blumhouse announced today that Jamie Lee Curtis will return to the revival of Halloween as the iconic Laurie Strode. The movie has been slow to develop since it was announced back in February, and just this week super-producer Jason Blum vowed to let his hand be chopped off if fans didn't get the new movie by next October. Now, it looks like he's going to deliver:
Those who have watched every single movie in the franchise might be confused, as Strode finally died at the hands of her brother/stalker, Michael Myers, in 2002's Halloween: Resurrection. (She was stabbed before kissing Michael on the mouth of his mask and saying, "I'll see you in hell." Then he threw her off the roof of a building, ending their 24-year game of cat and mouse.)
But screw that! The X-Men franchise effectively deleted The Last Stand to make way for new story lines, and the upcoming season of Will & Grace is pretending its series finale never even happened. Anything is possible in Hollywood!
The new Halloween will be written by Danny McBride and David Gordon Green, with the latter slated to direct. The man himself, John Carpenter, will executive-produce and serve as a creative consultant, and said at the time the project was announced that he might even do the music for it: "Maybe. It could be kind of cool." Of the pitch from McBride and Green, Carpenter also said, "I think you're gonna dig it. They blew me away." The sequel (not remake) is meant to cut "a new path from the events in the landmark 1978 film," and it will arrive in theaters on October 19, 2018. Fortunately for Jason Blum, he can attend with both hands.