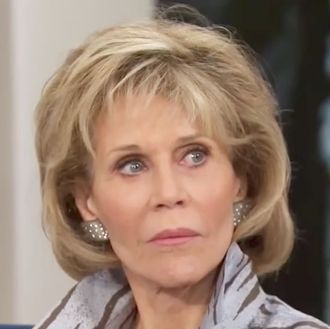 Things on Megyn Kelly's new hour of the Today show have not gotten any less awkward. On Monday, she started her Megyn Kelly Today run by telling a gay man who loves Will & Grace that "the gay thing" seems to be working out for him after he was selected to receive a prize package to visit the set of the rebooted show. Later in the day, Debra Messing said in an Instagram comment on one of her own photos that she was "dismayed by [Kelly's] comments." Messing also added, "Regret going." On morning number two, Jane Fonda didn't save her annoyance for after the broadcast, instead choosing in real time to sideline a question from Kelly about her history with cosmetic surgery in favor of talking about her new movie with Robert Redford, Our Souls at Night, which the two actors were on Kelly's show to promote.
Megyn Kelly might be divisive, but we can all be united in appreciating this loop of Jane Fonda staring at her as the host fumbles through a question about elective surgery.
It's a baffling moment, with Kelly bringing up ageism in Hollywood and explaining to Fonda why she is an inspiring Hollywood beauty before saying, "I read that you said you felt — you're not proud to admit that you've had work done. Why not?" At which point Fonda paused for a perfect extra beat and then responded with a question of her own, "We really want to talk about that right now?" Kelly then pursued flattery again to bring Fonda around to her, but after giving a few perfunctory longevity secrets ("good attitude, good posture"), the actress put the conversation back on message, saying, "But let me tell you why I love this movie …"
Update, September 28: In an interview with ET Canada, Jane Fonda explained why she stared daggers at Megyn Kelly when the NBC host asked about her history of plastic surgery. "Given the fact that we don't have a lot of time and Bob is right here, it's a weird thing to bring up, whether I've had plastic surgery or not," Fonda said. "I have and I've talked about it. Seemed like the wrong time and place to ask that question." See Fonda's response, below.