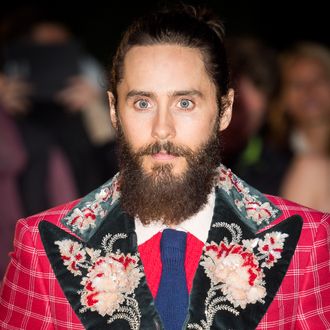 A Joker.
Photo: Samir Hussein/WireImage
Like anybody who has been following Warner Bros.' plans for Joker this summer, Jared Leto, actor who plays the villain, is having trouble keeping track of everything. "I'm a little confused, too," Leto admitted during an interview with On Demand Entertainment. Currently, the studio is working on two movies featuring Leto as the Gotham City madman, a Harley Quinn–Joker misadventure and the inevitable Suicide Squad sequel, and another stand-alone Joker project directed by Todd Phillips (The Hangover) and produced by Martin Scorsese. The other project is said to be outside the DCEU, and is thirsty to cast Leonardo DiCaprio in the part. Leto's not too worried about those rumors though.
"I love the Joker," Leto explained. "He's a great character and really fun character to play. But it's a big universe and when you play the Joker, there's no ownership there. You have the honor of holding the baton for a little while and then passing it off." Where was this relaxed Leto on the Suicide Squad set?