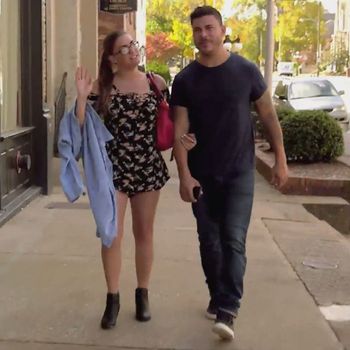 Photo: Bravo/NBCUniversal
My biggest complaint about Jax and Brittany Take Kentucky is, as a general rule, everyone is far too forgiving of Jax's misbehavior. Whenever he says something rude, Brittany's friends and family members — who are not seasoned reality-TV stars, but actual human beings — turn the other cheek. Lather, rinse, repeat. What I wouldn't give for a full-episode screaming match with Stassi, like the good old days. Maybe she'll get stuck with an improbable extended layover in Lexington on her way to vacation with Patrick? Until then, we rejoin Jax in the midst of trash-talking Brittany's fictional depression to her disbelieving dad. Then they play pool, because masculinity, and snack on something called beer cheese, which I would very much like to eat.
Over coffee with Brittany's brother Wes in downtown Winchester — which, our fish-out-of-water notes, has a couple of sandwich shops and zero cell service to its name — Jax complains that the entire Cartwright-Turner family keeps bugging him about marriage. That's a "great thing," Wes sagely points out. They could be saying, "Hey, you're an asshole. Go back to California." Coincidentally, that was the show's original working title: Hey, You're an Asshole. Go Back to California. Wes and his wife, Melisha (not Melissa, but Melisha), have struggled with fertility and suffered multiple miscarriages. Now, they're hosting a party to raise money for in vitro fertilization, which Wes expects to cost between $16,000 and $20,000.
Jax and Brittany (… Jitney? Am I way late on this one?) head to Lexington to party at Skybar with her hometown pals, many of whom are single moms. "They don't really know what birth control is," Jax says, with two parts derision and one part childlike wonder. With bottles going for one quarter what they'd cost back in Los Angeles, Jax is ready to party like it's 1999 as adjusted for inflation. Brittany's friends ask when she and Jax are going to have kids of their own, a question that makes Jax squirm perhaps even more than "When are you going to get married?" To be fair, drunk people screaming, "It's time for you to have a baby!" at me sounds like a nightmare I might realistically have.
Anyway, everyone's getting along until King Idiot tries out this "losing her spark" line on Brittany's BFF Cara. "Are you saying Brittany's not worth it?" she asks, outraged, then calls him out for lying about Brittany lying around on the couch while he supports them both. "She does things!" Cara scolds him.
The next morning, Jitney (okay, that doesn't really work) help Wes set up for the party, at which the baby-wanting couple will be selling raffle tickets and auctioning off donated goodies like a beer-pong table. Jax considers this category of chore a major upgrade from shoveling the poop of various large animals, even if he still doesn't understand the need for an IRL event. "There's an app for this," he says in a confessional. "It's called GoFundMe."
"Your friends are so fricking emotional," Jax, the picture of reason and stoicism, tells Brittany as they work, cracking that they should have given the women condoms as "parting gifts" last night. A well-timed clip from Vanderpump Rules reminds us of the time a certain someone thought he got a woman pregnant in Vegas, even though nowadays he throws around the phrase "illegitimate child" like he's a cranky nun in the '50s. Interesting!
The whole gang turns out for Wes and Melisha's party, including Mamaw, wearing a pair of American-flag cowboy boots to match Jax's. He pulls Sherri aside for what amounts to a halfhearted reenactment of his conversation with her ex-husband. Everything's "going amazing" with Brittany, except, well, it totally isn't. Surprise! "I feel like Brittany's losing a little bit of her spark … I feel like it's a little bit of depression," he says. Hmm, that all sounds awfully familiar. If you're going to take the time to rehearse your speech, surely you could have taken the time to come up with a less shitty speech? Also, please allow me to instate the first rule of the official Jax and Brittany drinking game: Take a swig every time Jax says the word "spark." (Rule No. 2: Take a shot every time he says "depression.")
Jax suggests to Sherri that her daughter's been "sitting on the couch after [she gets] out of bed at one in the afternoon and just eating." (@ me next time, Jax.) He won't propose until he fixes this "problem," he says, leaving his would-be mother-in-law in shock. "Please, please do not tell her that we had this conversation," Jax begs Sherri. You do know that Brittany will eventually see this on TV, don't you? That is what all these cameras are for. Cara apologizes to Jax for her "tone" at Skybar. Jax insists he has his girlfriend's best interests in mind, and he's downright "offended" she, or anyone, would suggest otherwise. Brittany is at 90 percent, but he wants her back at 100 percent. Excuse me, 90 percent is not bad! Certainly not enough to talk to everyone in her life about this alleged mental-health crisis.
Jax asks for the mic. "It's not what you think. It's not happening yet," he tells Brittany. It is every little girl's dream to be proposed to at her brother's IVF fundraiser, so that's disappointing. Jax announces to the crowd that, however much they raise tonight, he'll personally match those funds. How exactly does Jax "Why Does My Credit Card Keep Getting Declined" Taylor plan to get this money? I'm worried we're headed for a real-life Scott's Tots scenario, but for now, Brittany and her family are thrilled by his display of generosity. "If you weren't my sister-in-law's boyfriend, I'd kiss you on the mouth," Melisha says.
Of course, the only thing that motivates people to open their wallets more than a great cause is the opportunity to troll Jax Taylor. The cash absolutely pours in as our hero rubs his reddening face. By night's end, Wes and Melisha raise nearly $12,000 — and that's before Jax's generous contribution.
Don tells the camera he knows when Brittany is hiding something from him, and it's plain to him that his daughter is as happy as she says. He and Sherri compare notes on their conversations with Jax. "I'm having a hard time figuring this guy out," Don says. "He's trying to find an excuse to not go through with them getting married." Maybe we should reverse image-search that engagement-ring photo Jax showed off?