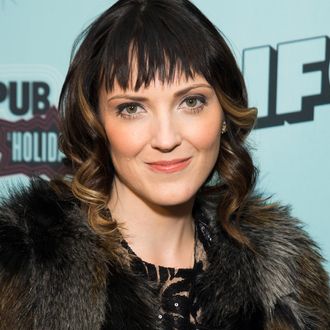 Jen Kirkman.
Photo: Getty Images
In the second season of Tig Notaro's Amazon show One Mississippi, there's a scene about sexual harassment in the workplace: a young female employee has to stand alone with her male boss in his office as he begins touching himself under his desk. It's a moment eerily reminiscent of an old Gawker blind item about a male comedian forcing younger female comedians to watch him masturbate, which was, at the time, thought to be about Louis C.K. As Notaro promoted the show, she asked that C.K., who has an executive producer credit on it, address allegations that he had behaved inappropriately with women in the industry. (C.K. responded to Notaro's comments by saying that he's not sure why Notaro is talking about this.)
The conversation about C.K.'s behavior is one that's familiar to comedian Jen Kirkman, who in 2015 alluded to an inappropriate exchange with a comic she toured with: "This guy didn't rape me, but he made a certain difficult decision to go on tour with him really hard," she said on her podcast, I Seem Fun, in a now-deleted episode. "Because I knew if I did, I'd be getting more of the same weird treatment I'd been getting from him." Now, while doing press for her current tour All New Material, Girl, Kirkman was asked by The Village Voice about her friend Notaro's recent comments toward C.K., and she used the opportunity to clarify what she meant back in 2015 on her podcast. Per the Village Voice:
"There are rumors out there that Louis takes his dick out at women. He has never done that to me," Kirkman asserts. "I never said he did, I never implied that he did." She continues, "What I said was, when you hear rumors about someone, and they ask you to go on the road with them, this is what being a woman in comedy is like — imagine if there's always a chance of rain over your head but [with] men, there isn't. So you go, 'Should I leave the house with an umbrella, or not?'"
Kirkman said she's not sure if the rumors about Louis C.K. are true, but that she deleted the podcast episode because she felt her meaning was misunderstood. "Sometimes there's nothing there. I think this might be a case of there's nothing there," Kirkman told the Voice. "If I'm wrong, I'm wrong, and if any women want to come forward and say what he's done, I'll totally back them, because I believe women. But I just don't know any."
*This article originally mischaracterized Kirkman's relationship with Notaro, and her involvement in the dialogue between Notaro and C.K. We regret the error.