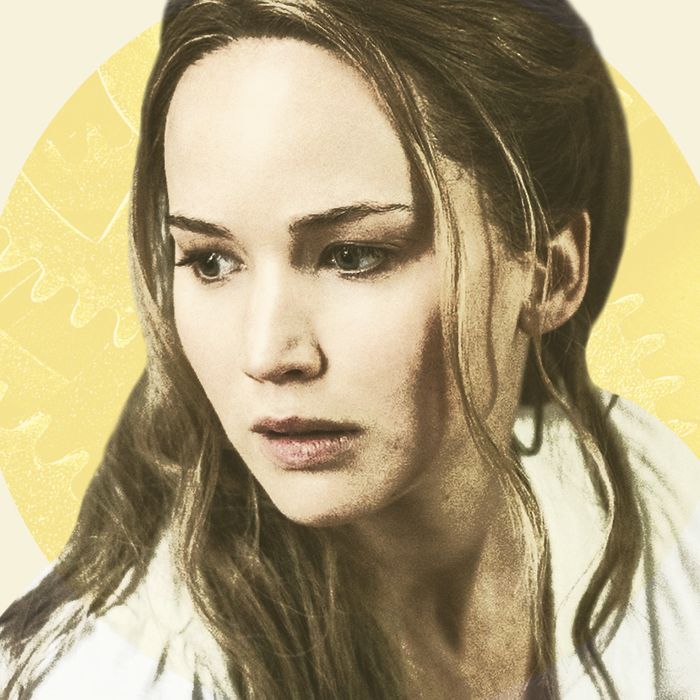 Photo-Illustration: Vulture and Photo by Paramount Pictures
Jennifer Lawrence has come unstuck in time. It's not a million-dollar dermatologist or the work of exceptional prosthetics: Lawrence's age fluctuates so much between her roles that she appears to have Benjamin Button disease. Sometimes she plays too young, but mostly she's unbelievably older, or almost entirely ageless (I'm sure there's an argument to be made that she's in her 20s in Mother!, but the complete lack of lines on her face suggest otherwise). Whether or not you think it's a problem that she's cast opposite men almost twice her age (Bradley Cooper, Christian Bale) is up to you, but it is unequivocally startling that, in one year, Lawrence played a 49-year-old mutant (X Men: Apocalypse) and a 34-year-old businesswoman (Joy).
To her credit, Lawrence knows that you have to suspend your disbelief just a little bit more than usual when you watch her movies. "David [O. Russell] gets visions. He's in his own beautiful, amazing world. Those kinds of silly questions [about age] don't really matter to him. It's not like I was old enough for American Hustle. And I was way too young for Silver Linings," she told the New York Times while promoting Joy. "That's why I almost didn't get it." Since we're not all in David O. Russell's beautiful, amazing world, Vulture has done the hard math of Lawrence's movies, figuring out Lawrence's age during production, her characters' approximate ages, and how many years she's playing up or down. O ye of many ages!