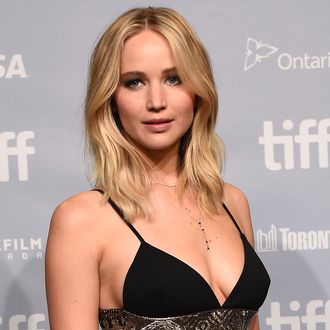 Photo: Kevin Winter/Getty Images
If you've read about Jennifer Lawrence's experience filming Mother! — she threw out a rib giving it her all — you already know that she's willing to lose control for a role. But that doesn't mean she enjoys the feeling. Lawrence told Entertainment Weekly that the feeling of losing control is something she's experienced in everyday life — specifically, on planes. "It's scary not being able to control yourself — I've recently had problems with plane anxiety and it's really similar," she said. "I'm not afraid of the airplane, I'm afraid of me on the airplane and losing control of myself." But fear of flying isn't something a sedative and a glass of white wine can't fix, right?
When EW's reporter says she sometimes gets so nervous that she'll interrupt the flight by shouting, "We're all going down!" Lawrence says she has actually done just that. "You know when they hit an air pocket and it feels like you're falling? I did it on a night flight one time: 'We're going down! It's coming down!'" What's more: Lawrence once tried to jump out of an Air France flight. "I can't believe I didn't get arrested," she said. "I got really claustrophobic and I had to get out." Maybe clapping when a plane lands isn't so lame after all.