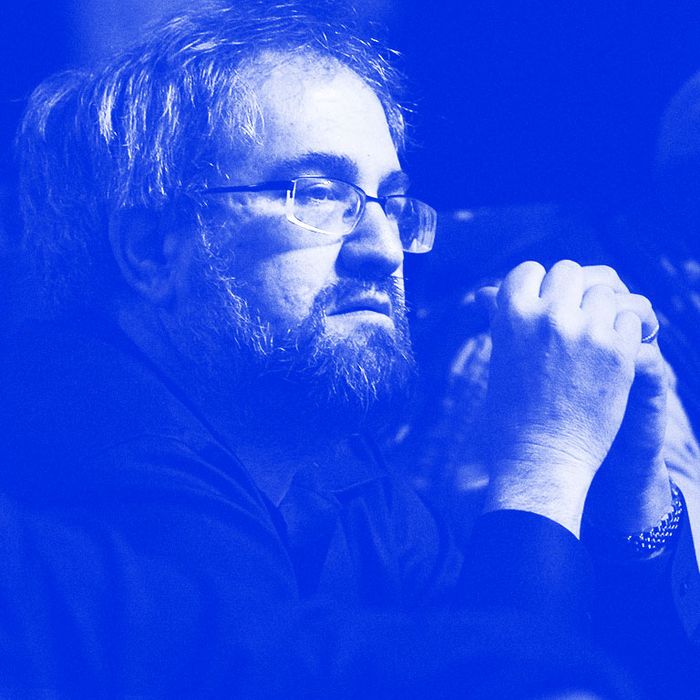 Photo-Illustration: Vulture and Photo courtesy of Billy Wisse
This. Is. Jeopardy!
The opening jingle of America's favorite Canadian-hosted game show has been embedded in the public consciousness for decades, with Jeopardy! airing five times a week for the vast majority of a calendar year. But beyond Alex Trebek's question-reading chops and the contestants' fast-reacting buzzers, the real magic happens outside of the studio, where eight writers and seven researchers create and fact-check every single question that makes its way on the air. "We all came to the show from different places wanting to be in the entertainment industry, but also being trivia nerds, so we've been lucky enough that this merges those two things," Jeopardy! head writer Billy Wisse tells Vulture. "Most of us started as researchers for the show, so we generally promote from within."
Unlike episodic television, the Jeopardy! writers room works standard, nine-to-five hours, even when the show isn't actually taping. "There's no time off. We're in production and tape the show two days a week, two weeks out of three, eight or nine months out of the year," Wisse said. "Everyone is in their office preparing new categories. It's organized around a library and the writers have their own office. Because of the internet, now it's a little more isolated. We work together somewhat less, but we very much still work together as a team in all other aspects." Ahead of Jeopardy!'s return to the airwaves on Monday night, Wisse walked us through the question-making process from start to finish.
1. The writers choose a category, which they source individually.
"There are a lot of ways that a category can be generated. It can come out of one interesting fact that you found that you decided had to be built into a category. It can come out of a cute title that you then had to justify with a category. Or it could just be Friday afternoon and you really should write one more for the week, and you don't have any better ideas than 'Spanish History' or something like that. The great thing about this show is that we range over so many areas. It's very easy to keep yourself refreshed if you're going from sports to history to food to literature and so forth."
2. Once a category is finished, it's submitted to Wisse.
"The writers write seven clues for a category, so that gives me the flexibility to knock out one and then put the rest in an order that makes sense. Five go on the air, and one's always an extra clue in case there's a last-minute problem. There's sometimes a conflict of material. You don't want to tape two clues about Benjamin Franklin on the same day, because they'll obviously air too close together. Or perhaps a long-standing contestant has already had a Benjamin Franklin clue in the past, so you knock that out. That's what the extra is for, basically, as well as any technical issues that could arise on stage."
3. After Wisse approves the categories and clues, he sends them off to the researchers.
"The researchers do two things: They check all of the facts to make sure everything is accurate, and they try to make sure that there's only one possible response for each clue. That's called 'penning.' We'll avoid clues that can feasibly have more than one correct answer."
4. Wisse puts the games together.
"There's a rudimentary color-coding system of 'academic,' 'lifestyle,' 'pop culture,' and 'workplace' clues. Within those four broad categories, obviously there are all kinds of different types of subcategories, so I try to balance the game as much as I can and cover as much knowledge, academic and otherwise, as possible. We want each game to be balanced and to interest all kinds of viewers as much as possible, but also so it's fair to all kinds of contestants. We don't want a game to lean on one type of material that one particular contestant could be strong in more than other contestants. We put together five games at a time because we tape five shows in a day."
5. The writers check the categories and clues one last time, in a process that's referred to as "roundtabling."
"The eight of us as a group try to improve the material as much as we can. We talk about whether we've done this fact too much, or talked about this person or this country too much recently, or whether this clue could be worded better. Or when I ordered the category, why on Earth did I put the easiest clue for number four or the toughest one as number two? It's constantly dialogue and comments to try to break the games down and make them as clean as possible.
6. The last-minute tweaks from the head honchos.
"When that's done, the researchers go over the games as a group one more time to try to address more research-type concerns, like facts that may be out of date and such. Our executive producer, Harry Friedman, looks over the games and gives us notes, and then we're ready to tape. Lastly, Alex Trebek comes in and reads over the five games, he gives his notes, and we tape the shows."
7. Final Jeopardy and Daily Double questions are formed by a (slightly) different process.
"We have a separate meeting to go over Final Jeopardy questions. Every few weeks, everyone will bring in their 'finals' and we'll read and critique them. The first thing is to make sure at least one of the other writers can answer it. If that doesn't happen, then it's too hard. Like our regular clues, we talk about how it could be worded better or whether we've done that fact before. Those go to our executive producer in a separate process before it goes into a game, to make sure he's okay with them. When we roundtable, that's when we choose the Daily Doubles and put the Finals on the game. For a Double Double, there's always an ideal clue on the board we'd like to see. The idea of a Double Double, as with the final question, is something that requires a two-step process. Not just like, "Do I know that piece of information or not?" But rather, "Do I maybe know a piece of information that will connect me to the response for that clue?" If you looked at it as a discrete piece of information, you might never know it, but there's a hint in there that connects it to another better-known fact. Daily Doubles are supposed to involve a two-step process, since you have a little more time."