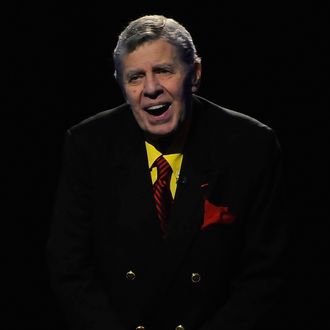 Photo: Larry French/Getty Images for The Friars Club
The comedic legend Jerry Lewis passed away from heart failure at the age of 91, just a little over a month ago, and new details about his last will and testament are now emerging. According to the Blast and People, Jerry Lewis purposefully left out all of his children from his first marriage with Patti Palmer. The will, executed in 2012, states the following:
I have intentionally excluded GARY LEWIS, RONALD LEWIS, ANTHONY JOSEPH LEWIS, CHRISTOPHER JOSEPH LEWIS, SCOTT ANTHONY LEWIS and JOSEPH CHRISTOPHER LEWIS and their descendants as beneficiaries of my estate, it being my intention to that they shall receive no benefits hereunder.
His son Joseph, mentioned above, passed away in 2009 following a drug overdose. Despite his 36-year marriage to Palmer, Lewis apparently left his entire estate to his widow SanDee Pitnick, with their adopted daughter, Danielle, second in line to inherit.