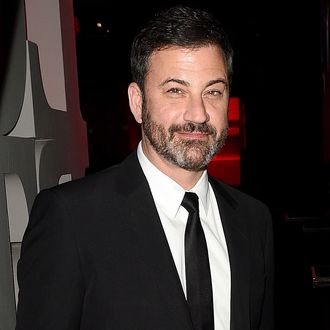 Photo: Joshua Blanchard/Getty Images
Jimmy Kimmel got a double dose of good news Tuesday: The latest Republican plan to scrap Obamacare died (again), and his ABC late-night show opened the new TV season by beating both Stephen Colbert and Jimmy Fallon in Nielsen's demo ratings. Per preliminary numbers from the nation's biggest cities, Jimmy Kimmel Live was No. 1 among adults under 50 Monday, scoring a 0.6 rating (versus a 0.5 for both The Late Show With Stephen Colbert  and The Tonight Show Starring Jimmy Fallon). Among all viewers, Kimmel (2.3 rating) finished just a bit behind Colbert (2.5) in the major markets, with both shows trouncing Fallon (1.7) in the nation's biggest TV markets.
Kimmel's ratings win Monday continues several days of Nielsen momentum, no doubt fueled in part by the host's heartfelt campaign to defeat the Graham-Cassidy scheme to repeal the Affordable Care Act (a.k.a. Obamacare) and gut Medicaid. Last week, boosted by extensive media coverage of his health-care monologues, Kimmel's show pushed Fallon to third place in total viewers twice, while beating or tying Colbert among adults under 50 every night of the week. While these wins might not result in a permanent restructuring of the late-night landscape — Colbert seems to have a firm grasp on No. 1 in viewers, while Fallon seems likely to stay ahead in demos — the ratings race is getting tighter. Much will depend on how well all three networks do at 10 p.m. this season. Kimmel was no doubt helped by a strong debut by ABC's newbie The Good Doctor, which gave the network some of its best numbers for a new scripted Monday drama in years.