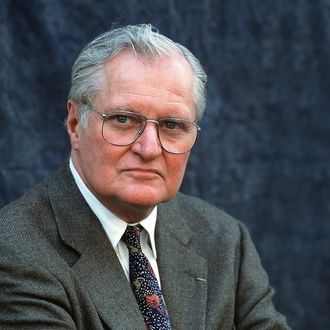 Photo: Ulf Andersen/Getty Images
John Ashbery, a Pulitzer Prize–winning poet whose singular, experimental style influenced writers for over half a century, died on Sunday. He was 90. His death was confirmed by his husband, David Kermani, to the New York Times.
In 1976, with his acclaimed poetry collection Self-Portrait in a Convex Mirror, Ashbery became the first, and only to date, writer to win the Pulitzer Prize, the National Book Award, and the National Book Critics Circle prize all in the same year. The poem "Self-Portrait in a Convex Mirror" is often considered to be Ashbery's masterpiece. He wrote the poem as a meditation on 16th-century Italian artist Parmigianino's painting of the same name.
Ashbery dreamed of being an artist as a young man, and was particularly drawn to abstract expressionists. His strong connection with, and understanding of, fine art appeared often in his poetry and in his other work. Early in his writing career, he was a correspondent for Art News and then the art editor for the European edition of the New York Herald Tribune. In 1975, he began a five-year stint as the art critic for New York Magazine.
His avant-garde poetry, which could be equal parts absurd and soulful, was rich in references and colorful imagery. Though he was associated most with other modernists writers in the New York School of poetry, including James Schuyler, Ted Berrigan, and Frank O'Hara, few poets from the '50s and '60s maintained the same cultural relevance and influence in the decades following as Ashbery did. His style is one of the most often imitated by student writers, though few, if any, can balance the surreal and the mundane as he could.
Despite his wide-ranging influence, many readers find his poetry hard to grasp. He referred to his style of writing, which often would circle around and obscure his direct references, as "the experience of experience." When reading his work, puzzling over the meaning behind his words is part of that experience.
In 2012, President Barack Obama presented a National Humanities Medal to Ashbery.
The poet died of natural causes in his home in Hudson, New York.