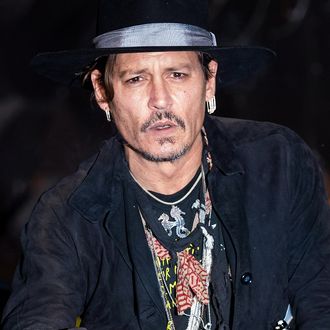 Johnny Depp.
Photo: Ian Gavan/Getty Images
The ongoing legal dispute between Johnny Depp and his former business advisers The Management Group (TMG) keeps getting uglier. Earlier in the year, the Pirates of the Caribbean star claimed that the company mismanaged his finances to the tune of $25 million, alleging "gross misconduct," including improperly prepared taxes, "fraudulent," self-serving activity, and unauthorized personal loans. TMG in turn argued that Depp owed them money for unpaid services, and released information about his lavish spending habits. On Tuesday, Deadline reported that TMG is now also responding to the loan aspect of the actor's suit by naming several cross-defendants in their cross-complaint: Depp's sister, his nephew, and several of his friends.
"In his attempt to avoid paying his debts to TMG, Depp is knowingly throwing his closest family, friends, and employees under the bus by falsely alleging that they took millions of dollars in unauthorized payments from him," reads a complaint filed today by TMG in Los Angeles.
TMG is arguing, essentially, that if Depp wants the money back that they loaned out on his behalf to his family and friends, then he is suing the wrong people. This additional document might also seem to add credence to a story from an ex-TMG employee that claimed the company gave money to Depp's sister Christi Dembrowski, who also runs his production company, unchecked.
The case is scheduled to go to trial in August 2018, which leaves almost an entire year for both parties to continue to make their cases in the court of public opinion.