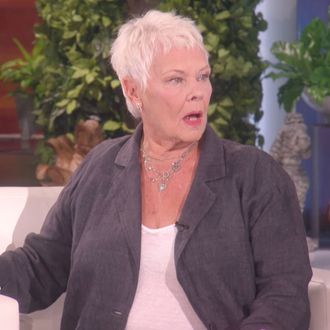 What a Dame!
Photo: Ellen
Certain as the sun, Dame Judi Dench is back playing a British monarch this fall — specifically Queen Victoria in Stephen Frears's Victoria and Abdul. As it seems with each passing year, the British national treasure (who would really prefer you stop calling her that) grows closer to Tracey Ullman's impression of her. Dench has spent her press tour for the film doing everything possible to seem as fun as possible. In short, she's having a great time.
Dame Judi broke out a fidget spinner while doing press for the movie in Toronto. Dench's spinner is especially tiny, but as befits a master of the stage and screen, she manipulates it with great dexterity.
Because apparently it's funny whenever any white actor of a certain age attempts to rap, Dench got lessons on laying down bars from London's Lethal Bizzle. She also coordinated her snapback with some statement jewelry and a soft cardigan.
Ellen DeGeneres got Dame Judi to play "Would You Rather?" and the world learned that she has a big honking crush on Johnny Depp. (We're assuming that'd be Chocolat-era Depp, and definitely not Depp now.)
On Corden, Dench revealed that she recently got a new tattoo, which she claimed was her only tattoo, though a long New York Times profile from Maureen Dowd mentions two others: "Swarovski crystal body art spelling out '007' on her shoulder" and "a message on her 'bum' that said, 'JD loves HW,' with a heart with an arrow through it, in gratitude to Harvey Weinstein for making her a movie star." The point is, this Dame is inked.
One last question: Has Dame Judi Dench ever had any reservations about doing love scenes? No, of course not, she's Dame Judi Dench.